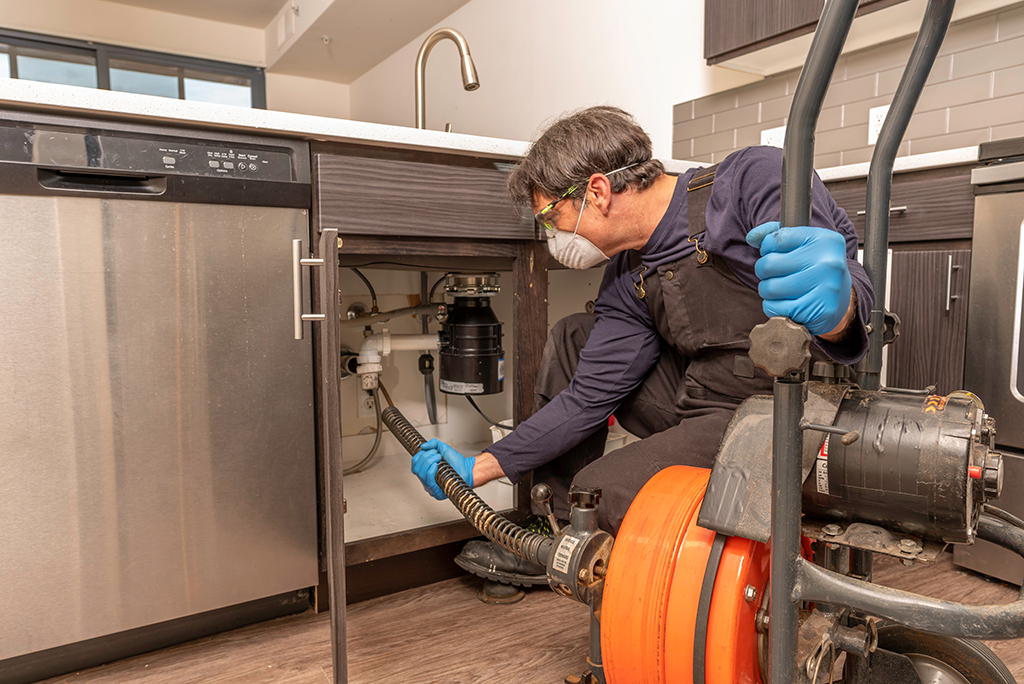 5 Things To Ask Before Hiring A Drain Cleaning Service | Summerlin, NV
Photo by David Spates at Shutterstock
Most homeowners will run into a clog ever so often. These clogs are usually rather easy to deal with. All you need is a plunger. If not, time may drain the plumbing.
If you noticed that your drains are getting clogged constantly or if you noticed that none of your previous easy fixes are making a dent in getting the drains unclogged, call a professional plumbing company to perform a drain cleaning service. This type of service is highly recommended every 1 to 2 years, as it can lengthen the life of your plumbing and ensure that it remains in pristine shape.
Before you agree to getting the drains cleaned, there are several things that you should ask the plumbing company. This article will look at five things that you should ask before agreeing to any contract or signing the dotted lines.
#1. What Does the Service Include?
First things first, one of the most important things that you need to consider is what the service includes. When it comes to drain cleaning services you want to look for a company that offers a video inspection. A video inspection will give you a good idea on the condition of your plumbing and will also let you know which areas need more extensive cleaning. If your drains are clogged, a video inspection will be able to tell you why it got clogged in the first place.
#2. What Is the Total Cost?
Before you agree to any drain cleaning service, make sure that you know what the total cost of the service may include. Ask for a quote before you agree to anything. While the quote may not be the final price, it will be very close to the price. If you get several quotes from several different companies, you'll get a good idea of what to expect. This will allow you to avoid scams or companies that charge extra for certain neighborhoods.
Inquire about the type of services that are included in the cost. The important part here is to avoid hidden fees. For example, ask the plumbing company whether they charge any overtime fees or any travel fees. Both of these fees can add up rather quickly and make a drain cleaning a lot costlier later than expected.
#3. Do You Offer Any Guarantees or Warranties?
In general, you can expect a reputable plumbing company to guarantee their work. Drain cleaning services are no exception. Reputable and experienced plumbing companies will be confident that their drain cleaning service will remove even the most stubborn clogs. If the clogs are to return within a day or even a week, the plumbing company will usually be more than happy to send out a professional to fix the problem at no extra cost.
While you're discussing guarantees and warranties, you should also discuss whether the plumbing company offers any insurance or guarantee for their work. For example, if a mistake should happen and the plumber should accidentally damage the drains, make sure that they will be responsible for fixing it. The last thing you want is to be stuck with a bigger mess.
#4. Will You Clean Up the Area Afterwards?
This is almost a given. However, you should always ask just to be sure. Make sure that the plumbing company will clean up the area after they have finished a drain cleaning service. Depending on how clogged your drains are, cleaning them can get rather messy. Unclogging the drains may involve bringing up a lot of dirt, dust and debris. You definitely don't want to be stuck cleaning the mess afterwards.
Many home owners will also ask whether the plumbing company intends on disinfecting the surfaces afterwards as well. Some plumbers may want to clean up after they've completed the job. In these cases, some homeowners may want to leave a bathroom available just for the plumbers.
#5. Do You Have Any Policies I Should Be Aware Of?
Last but not least, you should ask the plumbing company whether there are any policies in place that you should be aware of. For example, some plumbing companies may ask that you give their plumbers as much space as possible. They may ask that you relocate your children and your pets to another room while the plumbers are working. And, they may ask that you wear a mask when discussing details of the drain cleaning service with their plumbers.
Some plumbing companies have also enacted policies for payment. For example, some companies may ask that you pay online ahead of time. Others may prefer electronic transfers whenever possible.
Call Craig's Plumbing for Drain Cleaning Services in Summerlin, NV
Dealing with a clogged drain can be a headache. If you don't have the expertise, you can find yourself in some pretty annoying situations. The best way to prevent clogged drains is to get a professional drain cleaning service every 2 to 3 years at the very least. You'll notice a huge difference in the condition of your plumbing. Some homeowners even find that they require fewer plumbing repairs if they get regular maintenance services.
If you're looking to get your drains cleaned, contact Craig's Plumbing in Summerlin, NV. We are licensed and insured. We also have years of experience in dealing with all types of plumbing needs. We will be able to easily figure out why your drains are clogged in the first place, so we can solve the problem for good. This way, you won't have to worry about clogged drains for quite some time.
We'll also assess the situation to see how you can prevent your drains from getting clogged in the future. For example, if your drains are getting clogged because of the minerals in hard water, our experts may recommend installing a water softener. Or, if your drains are getting clogged because of hair, they may recommend that you use a drain catcher.