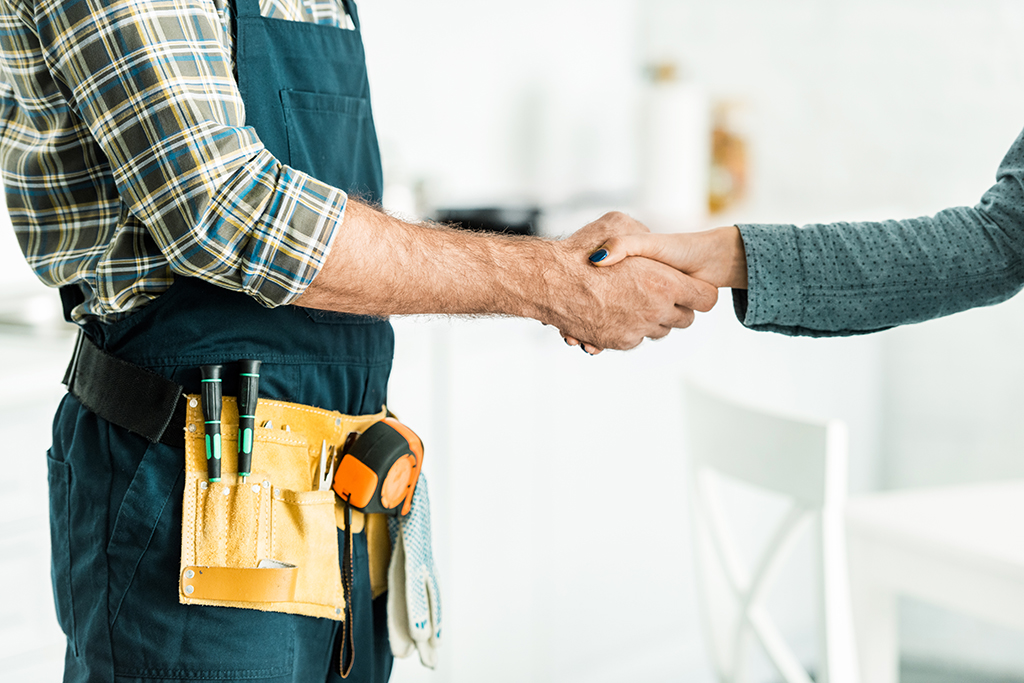 6 Tips For Finding A Plumber Near Me In | North Las Vegas, NV
Photo by LightField Studios at Shutterstock
There are many things that can go wrong in your plumbing system because the system has so many components that work together to provide you with hot or cold water and remove your waste. If you have moved to a new area then you might be struggling to find a "Plumber near me in North Las Vegas, NV". Craig's Plumbing would like to share with you six things that you can implement in order to find the best plumber for you. If you follow these six tips then you will find a plumber that is professional, reliable, trustworthy, and affordable.
1. Licenced and Insured
This tip is the first on the list because it is one of the most important steps when you are looking for a "Plumber near me in North Las Vegas, NV". A plumber should be licensed because it shows that the plumber has had enough training and practical experience to safely and correctly repair and install your plumbing components. You should also make sure that the company is a member of a plumbing association as this will show you that they will be held accountable for mistakes and that they are always up to date with the latest plumbing upgrades and improvements. You should also confirm that the plumber you wish to hire as insurance will protect you from having to pay for damages caused by careless workers. This can also protect you from being responsible for medical bills that could occur if one of the plumbers gets injured on your property.
2. Check Reviews and References
If you are hiring a plumber for the first time then it would be a good idea to check the online reviews for the company you plan to hire. A simple "plumber near me in…" search can help. It is recommended that you look at the reviews on third-party review sites. On these sites, companies have no control over which reviews get posted or deleted. This means that you will get an accurate depiction of what the service you are thinking of hiring will be like. It is best to keep in mind that companies will not have perfect reviews but it is good to select a company that has more positive reviews than negative ones. You should avoid only checking the reviews on the company website because they are likely to delete bad reviews. You could also ask the plumbing company to provide you with some prior customers numbers so you can contact them directly and determine what the service was actually.
3. Personal Referrals
Another useful tip for finding a "plumber near me in…" is to ask your friends and family that live in the area to recommend a plumber to you. It is best to start asking your friends about some plumbers before you experience a plumbing problem. This will give you enough time to make sure that the plumber has good reviews, is licensed, and has insurance. You should ask your friends, family, or coworkers how they experienced the service and ask specific questions like "how professional were they?", "How well did they stick to deadlines and appointment times," and "how satisfied were you with their services?". This will give you a better idea of what you can expect when it comes to the potential plumber.
4. Professional Referrals
Another way that you could get a recommendation for a "plumber near me in…" is to ask other contractors to recommend a plumber to you. They will know of other contractors that they have worked with in the past. They will be able to give you a professional opinion about which plumber you should hire. They could also advise which plumbers you should avoid because they have poor services or they have exorbitant prices. It is also best to cross-check the plumbing companies that professionals recommend with the reviews that you can find online. This will help you to determine whether the online reviews and the recommendation correspond. This will decrease the risk of hiring an inadequate plumber just because another contractor advised you to do so.
5. Inquire About Written Estimates
In order for a "plumber near me in…" to give you an estimate of the costs, they have to do a thorough inspection of your home to determine what the problem is and the best ways to resolve it. Once the plumber has inspected your home then they will be able to draw up a quote that will include all the costs involved in resolving your problem. The quote should be detailed and itemized so that you know exactly what you are paying for. The quote should also include the labor costs and removal of rubble. To make sure that you find the best possible price, you could have a few companies do an inspection and provide you with a quote.
6. Compare Plumbing Companies
Once you have gone through the process of selecting a "plumber near me in…" and he has already done the initial inspection then you can start comparing the different plumbing companies. Craig's Plumbing advises always comparing the quote, quality of customer service, punctuality of the plumber, online reviews, types of services, and availability. This could be a time-consuming process but it will help you to determine the best plumber for your needs. Once you have chosen your plumber then you do not have to worry about finding a new one every time.
These are the tips that you could follow in order to find a "plumber near me in North Las Vegas, NV". If you follow these tips then you will have no trouble finding the best plumber for your needs. If you are struggling to find a starting point then consider Craig's Plumbing. They provide a wide range of services that will resolve your plumbing problems.
Contact Craig's Plumbing today, the ultimate plumber near me in the area for an inspection and a quote.