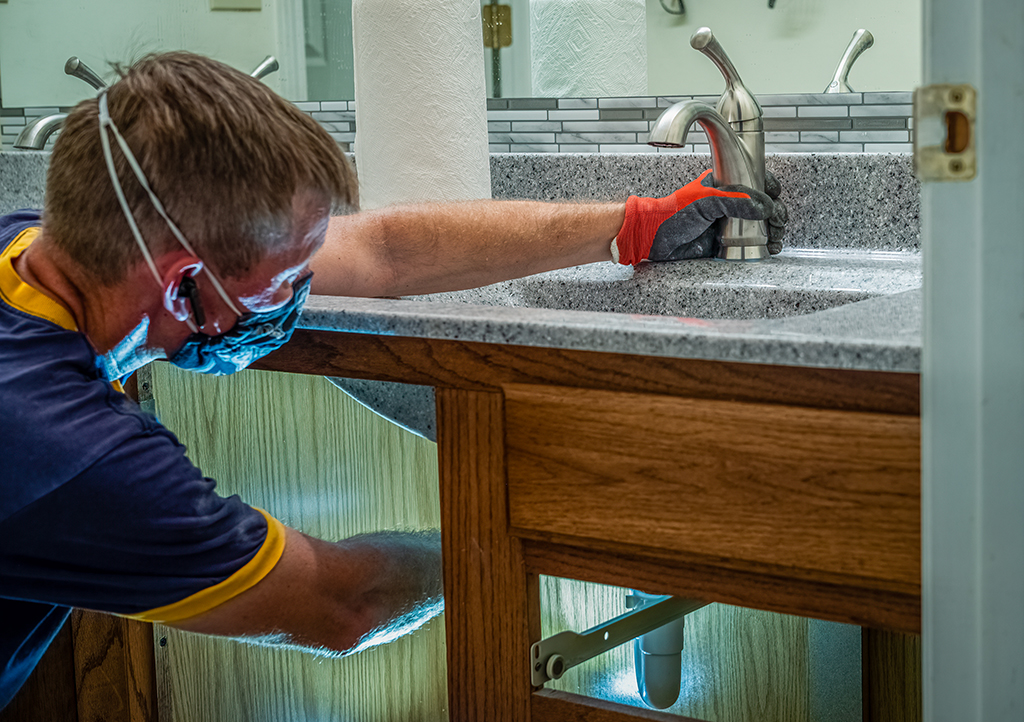 Common Plumbing Issues You Need A Plumber To Fix | Henderson, NV
Photo by LanaG at Shutterstock
Plumbers are basically experts at anything connected to water. If any of your plumbing appliances or features within your plumbing system is in disarray, you will need to contact a professional for repair and assistance. Plumbing issues are common occurrences in households all over the world. Plumbing malfunctions can be greatly reduced or prevented in their entirety with the help of a professional. If you live in or around the area, and are experiencing any plumbing problems mentioned here, you should contact Craig's Plumbing for assistance.
Why You Should Contact A Licensed Plumber
Preventive plumbing maintenance is an important aspect of taking care of your home. Many people believe that plumbing maintenance revolves around chemical drain cleaner and calling a professional only when something goes wrong. This method of plumbing maintenance is more reactive than proactive. Proactive maintenance is the act of proactively repairing and maintaining systems before something can happen. This will reduce the amount of plumbing failure you experience. Hiring a plumbing professional to maintain your home's system will help you save money and prevent damages. However, you will need to make sure your plumber is licensed and equipped to handle any plumbing problem that may be thrown their way.
You will want to hire a licensed professional to ensure you are safe, your property is in good hands, and that you get what you paid for. The plumbers at Craig's Plumbing are trained and licensed plumbing technicians that are qualified to go to your home and repair your systems.
Hiring a professional plumbing company such as Craig's plumbing ensures you are getting trustworthy plumbers with experience, proper training, proper background checks, and proper licensing. Hiring a professional company to perform preventive maintenance tasks will help keep your home in great condition, up to code, and ready to resell when the time comes.
Common Plumbing Issues That Can Be Solved with Proper Maintenance
Running Toilet
A running toilet may seem like a simple nuisance and not something that needs to be addressed right away. However, a constantly running toilet is a huge waste of resources. A waste that you will end up paying for in the long run. According to reports, a running toilet can waste nearly 300 gallons each hour. That's 7,200 gallons of wastewater every 24 hours. It has been reported that this can add $60 to your water bill daily. If you are unable to locate the cause of your running toilet, you will need to have it repaired immediately. In this case, you will need to contact an emergency plumber right away. Acting fast and calling a professional will help prevent waste of water and money.
Leaking Faucet
A dripping or leaking faucet is another annoying plumbing problem that many people don't realize needs a professional touch. Having a leaky faucet is not considered a plumbing emergency, however, it still needs to be addressed. A dripping faucet is a waste of money and resources as well. Over time those little drops of water amount to gallons wasted. Don't allow the waste to continue and simply have a plumber fix this small yet troubling issue at once.
Clogged Drains
A clogged drain is one of those plumbing issues that everyone has endured before. Many people opt for an over-the-counter drain cleaner in order to alleviate this problem. Over the counter, drain cleaners are a problematic solution to this for many reasons. One of the main reasons is that it is harsh on your pipelines and can be dangerous if it were to come in contact with skin. Chemical drain cleaners are also not always effective. Stubborn clogs cannot always be cleared out with chemical drain cleaners. This action may also end up exacerbating the problem by lodging the clog deeper and deeper into the pipelines. This will then cause you to occur more damages and an expensive repair bill.
A preventive maintenance plumber will be able to clean your drains and remove any clogs you may have without causing damage to it. With a professional drain cleaning service, you can rest assured knowing that your drains are clean and will remain this way for a long time. The key to maintaining your professionally cleaned drains is to prevent non-biological items from entering the drain. You should also ensure oils, hairs, and food doesn't get into drains that cannot handle it. Garbage disposals are the kind of drains food should go in. If you live in the Henderson, NV, area, you should contact Craig's Plumbing for professional drain cleaning and clog removal services.
Sewage Line Problems
The sewage line is bound to have problems if it is never maintained. There are many components that the sewage line uses to operate that can lead to an unsanitary malfunction if any of them were to become faulty or unhinged in any way. If you notice any kind of issue with your sewage line, you will need to contact a professional for urgent plumbing assistance. Sewage line issues can start with a smell, toilet or drain backups, or even something as major as a septic tank failure. Problems with the sewage line can be costly and property damaging. This is why it is so important to have an emergency plumber insect and fix the malfunction as soon as possible.
Trying to figure it out yourself or waiting to contact a professional for a sewer line issue can result in catastrophe for your property. If you notice a foul smell emanating from your pipelines, this could be the first sign of a serious problem to come. Do not hesitate to consult with a professional problem for strange smells, or any other weird sewer line occurrences that you may be experiencing.
The plumbing system is not going to last if it is not cared for. Proper maintenance and repair will help to keep your plumbing in good condition for years to come. If you live in the Henderson, NV, area, contact Craig's Plumbing for excellent plumber work and maintenance.