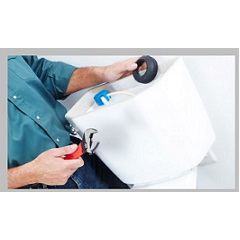 Energy Efficiency Drives Pump Market
Key players in the pump market including property owners, manufacturers, management companies, and even electric utilities all believe that higher energy efficiency is the name of the game when it comes to the pump market.
The rapid improvement in pump technology means that products are much more reliable and can provide convenience, security, and comfort to the end user. Pumps being sold in the market these days are not only able to give customers peace of mind when it comes to their properties but also allows its users to save on costs.
"Variable-speed pumps are designed to match circulation of hydronic fluids to precisely meet the call for heat; it's all about efficiency — something we're very proactive about," says Gene Fina, Senior Product Manager for Taco.
The Department of Energy's new rulings on efficiencies for commercial and industrial pumps also play a part in urging both service providers and end users to opt for pump systems that are more energy efficient and cost effective.
"The rising cost of energy and resulting need to decrease power consumption are the driving forces behind all technological advances in the pumping industry, whether residential, commercial or industrial," says Van Johnson, Senior Portfolio Manager for surface pumps at Franklin Electric.