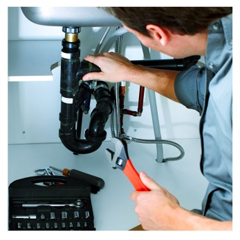 Plumbers are highly noted for their skills in keeping water and pipe systems in homes running smoothly. However, apart from their abilities in fixing and maintaining pipes and fixtures, they must also have the right tools for the job. Below are some of the essential tools in a plumber's box:
Tongue and groove pliers. Also known as channel locks, these tools are handy, quick, and can take apart most pluming easily. They usually come in pairs where one is used for stabilizing the pipe and the other one is used to unscrew.
Basin Wrench. This self-tightening wrench is useful for changing out an old faucet. It can be used to tighten or loosen fittings in hard to reach places.
Compression Sleeve Puller. This is used for removing the back nut and the compression sleeve in compression angle stops without damaging the pipe.
Pipe Wrench. This is the quintessential plumber's tool. This is useful for threaded fittings like iron pipes, nipples on water heaters, yard hydrants, and pressure regulators.
Adjustable Wrench. This tool is used for removing angle stops, compression nuts, supply lines to faucets, screwing on or removing a shower head so that the chrome does not get scratched during the installation or cleaning.