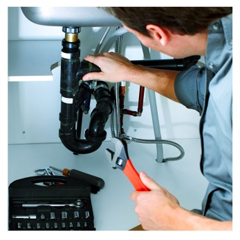 Four Steps to becoming a Plumber
Pursuing a career as a professional plumber can be profitable and rewarding. There are always households, corporate spaces, establishments, and healthcare centers that are in need of the services of a plumber. Becoming a plumber begins with apprenticeship. Here are the four steps to take to become a full-fledged plumber:
STEP ONE: Secure a High School Diploma or an Equivalent Certification
                The Plumbing industry has grown into a competitive space for professionals. Aspiring plumbers need at least a high school diploma or must possess a certification that he has achieved that level of education already. Moreover, some firms are looking at plumbers' ACTscores especially the Math section.
STEP TWO: Take a Vocational Plumbing Course
               Getting into an excellent apprenticeship program means that an aspiring plumber needs to take a vocational course. This ensures that one has the necessary initial skillset and knowledge before getting into a program. Mandatory requirements like courses and total hours vary by state.
STEP THREE: Complete an Apprenticeship Program
                There are two ways to go about this step. First is to get into a program provided by the local plumber's union. This is a combination of classroom and hands on training that typically lasts between four and five years. The second way is to contact a master plumber and ask if he would be willing to take you in as an apprentice. For this, one needs to have a separate classroom hours.
STEP FOUR: Complete the Journeyman's Exam
                The last step is to pass the Journeyman's exam. The requirements that need to be submitted include a signed affidavit from the master plumber one worked under including the number of working hours completed and his plumber certification number. This is a state-sanctioned exam. Upon passing the exam, one is considered a certified plumber. One also has the option to pursue higher education and field experience in order to gain a master plumber certification.