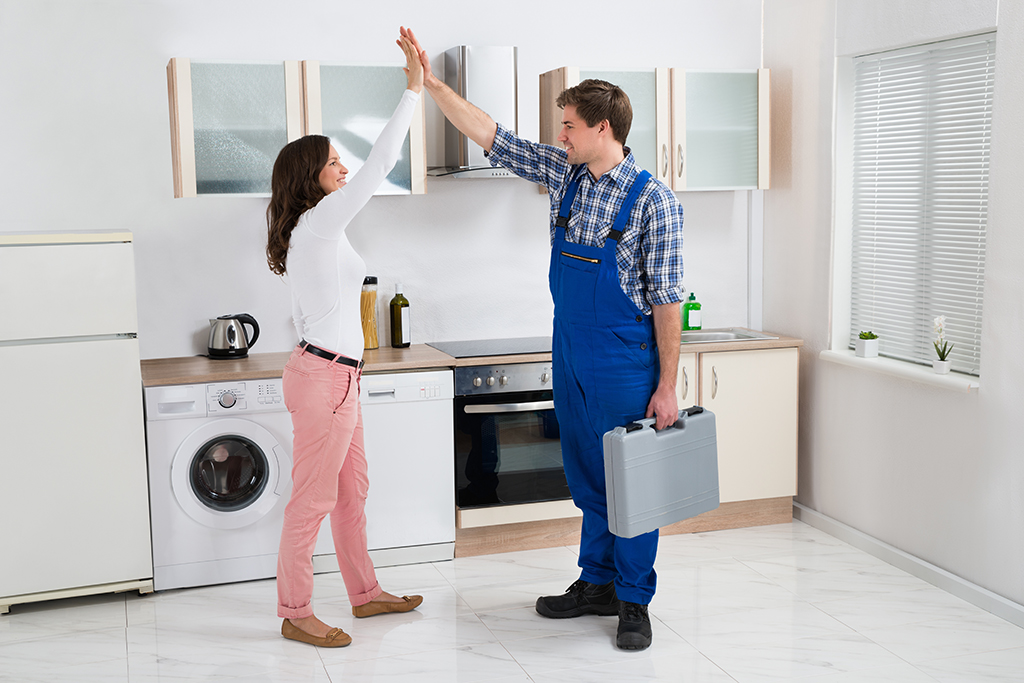 Homeowners Have Counted On This Plumber Near Me In | Henderson, NV
Photo by Andrey_Popov at Shutterstock
Craig's Plumbing has been serving Henderson, NV, and the Las Vegas metro area since 1997. Even if you're a frequent visitor to the area, you've probably seen our vehicles crisscrossing the area on their way to serve our customers, and if you're a local, you probably know the "plumber near me in Henderson" that your friends and neighbors count on. Local, dependable, skilled, and with great customer service, in our case when people talk about a "plumber near me in Henderson," they're talking about not just a plumber that's close, but one they feel close to and trust, and know they can call any time for an urgent plumbing service at a reasonable, transparent price. We also know the area, the houses, pipe materials used in building, challenges in digging for sewer lines or plumbing underneath slab foundations, water quality issues, all that a good plumber with decades of local experience should know. When you need a plumber near me in Henderson, we're the right choice for you.
24/7 Plumber Near me in Henderson Providing Coverage for The City That Never Sleeps
As Las Vegas area plumbers, we're used to the fact that our customers keep all kinds of hours. We're here for you when you're up at 2 am and that last flush didn't work, and the next one started to come back up. Don't panic, just call the plumber near me in Henderson that's awake and ready to serve you. We're ready to help with broken pipes and other plumbing damage, especially when it's threatening to flood your bathroom and go on to soak the rest of your house. Kitchen trouble? Dishwashers and garbage disposals can get pretty funky and make a mess, even backing up stuff from your kitchen sink drain into your dishwasher if things aren't plumbed correctly. If you're up late at night and notice a puddle near your water heater, it's a good thing you're a night owl, let's catch it before the leak continues and the puddle spreads, or worse.
Plumbing Water and Sewer Lines and Under the Slab
Our area has some interesting soil, kind of tough and clay-like, with sand in some places, which means that burying pipes can be a challenge, and pressure on the ground can transmit easily to pipes and lead to broken ones that need repair or replacement. We've been dealing with local land for a long time, and we have seen a lot of what can happen with plumbing, including pipes under your foundation or "the slab." In monsoon season, if it happens, large amounts of water complicate the soil conditions and provide other plumbing challenges. One thing is for sure: when we're the plumber near me that you call, our outdoor plumbing work is informed by our local knowledge of land and weather, and that can pay off over time.
Getting to Know Your Plumber Near Me in Henderson
Another reason people get to know their local plumber is to build a connection and have someone they know and trust working on their home's plumbing. A plumber near me is one you can call by name, call just to ask questions about something that doesn't seem right or a future job you have in mind, and someone you know has been trusted by your friends and neighbors for decades, so accountability is a given.
When you're building a business by word of mouth and repeat business, success is the result of doing things right and, if something does become an issue, handling it professionally and wisely. Another way that we earn trust as the plumber near me in Henderson for so many homeowners and businesses is clear, upfront pricing. We've been doing this for a long time, so we have a good idea of what each job should take, and we can explain it to you and quote the job on that basis. It just makes things easier when we're straightforward with each other.
A Plumber Near Me in Henderson for Big Plumbing Jobs
When you hire a service provider to work on your house, it's giving up your privacy and other normal parts of your life for a while as the work gets done. We respect that, and we focus on the work at hand and getting it done for you as quickly as possible, even when it's a job like digging a trench and replacing your sewer line, or repiping your older home to replace pipes that are starting to develop major leaks. Even drain cleaning service can be somewhat invasive, though it usually only takes a few hours for the whole house and the results make a big difference in avoiding urgent clogs in the coming year.
By the way, speaking of digging trenches and sewer line replacement, there's good news about that! Modern materials and plumbing methods allow us to patch, reline, or replace the existing pipe without all that disruption. Patches are applied using video cameras in the pipe and long-lasting patch material, relining provides an inner liner to the existing pipe covering the damage with durable material, and we can sometimes burst the existing pipe in place and slide a replacement in without all the backhoe commotion. We have great technology solutions for other plumbing issues that used to be a bigger deal, including leak locating in your walls, and pipe problems under the slab. We're proud to offer new ways to serve you that make your life easier and often fix your plumbing in less time at a better cost.
The Plumber Near Me in Henderson, NV That's Ready to Serve You Best
Being your local plumber is only one of many ways that Craig's Plumbing is your best choice for a plumber in Henderson, NV. When you reach out to us, we have a lot to offer and many ways to make your life as a homeowner more relaxed. Call us, we look forward to serving you.