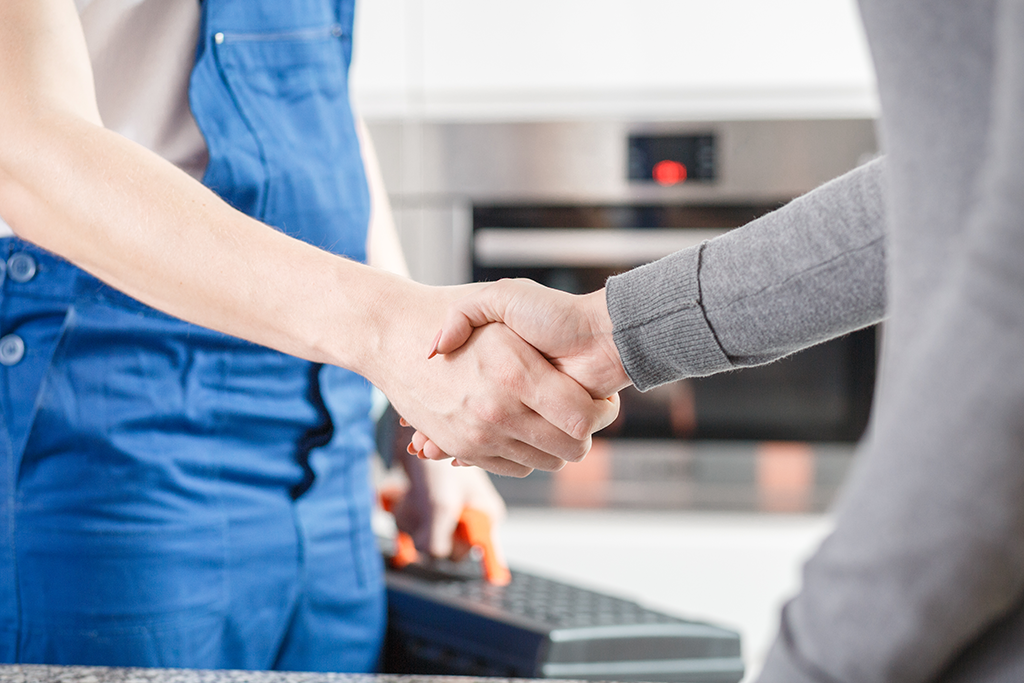 How To Select A Plumber | Las Vegas, NV
Photo by Photographee.eu at Shutterstock
A plumber in Las Vegas, NV, is an asset. The professional possesses the knowledge, skills, training, and tools to fix all types of issues. They're a valuable source of information, too, making it imperative to have access to their services just as soon as you've located a professional to trust.
This guide makes the entire selection process as quick and easy as possible. That way, you're not in a position where things go from bad to worse with your plumbing quickly. Instead, you get everything taken care of right away so that it's less of an issue for you to deal with today. The sooner you take action and address a plumbing issue, the better things get for you and your household physically and financially.
There isn't the burden of a plumbing issue keeping you from getting things done around your home. All the chores you need to take care of are getting addressed, so they're no longer the type of issue that holds you back. Dishes and laundry get washed with ease. The kids get a bath, and the dogs even get bathed, too.
Get to Know Vegas Plumbers Better by Doing These Things
Hiring a professional is a serious matter. It takes time and careful consideration. It requires some research from you as you try to find out what makes some plumbers stand out more than others. The answer is rather easy. The companies that prioritize customer service are the ones that you want to give a second look at when searching for the perfect company to hire.
Get to know the plumbing companies in the area by following the advice on the list. It provides you with plenty of insight into what makes the professionals outstanding in every way. If you haven't had the chance to hire a plumbing professional in the past, here is your opportunity to have one on call in the event of an emergency.
Here is how to select a plumber in Las Vegas, NV:
Do your research. Find out who in the area offers plumbing services and what they can do to assist you with your request today. Some plumbing professionals can help with very specific projects. Others do just the basics. Reading the website information from companies who have an online presence helps acquaint you with the services before you call to set them up. The more you read up on a company, the better you feel about hiring a plumbing professional. You'll learn who in town is the most affordable option to go with that day.
Ask for a recommendation. See who can help you with your request by hitting up your family, friends, neighbors, and co-workers for a referral. Someone has to know a good plumber you can trust. Give the professional a call and get your service scheduled. There's no reason for you not to get the help that you need when you need it most when you have a wealth of knowledge at your fingertips.
Trust your gut. How did the interaction make you feel when you called a company to request plumbing services? If you feel comfortable after getting off the phone with the rep, feel free to schedule an appointment as soon as you're ready. If you feel rushed or ignored, it's time to call another company that puts your needs first.
Learn about licenses and credentials. You want someone who is skilled and capable of doing plumbing work for you without harming your home or costing you more money in the future. When you ask about licenses and credentials, you expect to hear about how the company takes preventive measures to protect its customers. If there is no mention of these things when you speak to a plumber, you'll want to move on to a company that prioritizes them.
Witness the plumbing professional in action. Watch videos and see how the plumbing professional works. Listen to the language they use to describe the processes they take. If the plumbing company shares information on their social media accounts, take some time to watch it. You'll gain knowledge about how the company works. A video also makes for an entertaining evening because not all plumbers want to show you what they do to fix a problem.
Having the option to pick out a plumber with your best interests in mind is something you want to acknowledge and do right away. It makes it easier to find the right professional for the job you had in mind for them to do for you. It doesn't matter if it's something to do with your toilet or water heater because a good plumbing professional knows how to install and repair it all.
The company you choose to give your money to makes all the difference in how satisfied you are with the services received. Some companies go the extra mile to ensure your satisfaction and ensure that your plumbing works optimally for a long time. The plumbers don't rush jobs but instead carefully inspect the problem area until they discover what the issue is that needs their attention.
We win your trust by being the type of plumbing company you can call day or night. It doesn't matter if you haven't had the chance to work with us before today. We'll make sure we go the extra mile to ensure your satisfaction. That way, you're well on your way to getting things done quickly and conveniently.
A Helping Hand is One Phone Call Away Today
Reach out to Craig's Plumbing today with your request for assistance. Call 702-496-3892 for more information and get in touch with knowledgeable and skilled plumbing professionals. That way, you're never without the plumbing services that you require to keep your house sanitary and functional long-term.
We want you to feel comfortable working with us. Let us know what we can do to ensure your satisfaction and give you the help you deserve. It's one of the many things that we do differently from other Vegas companies. We make you feel extra special from the very start.