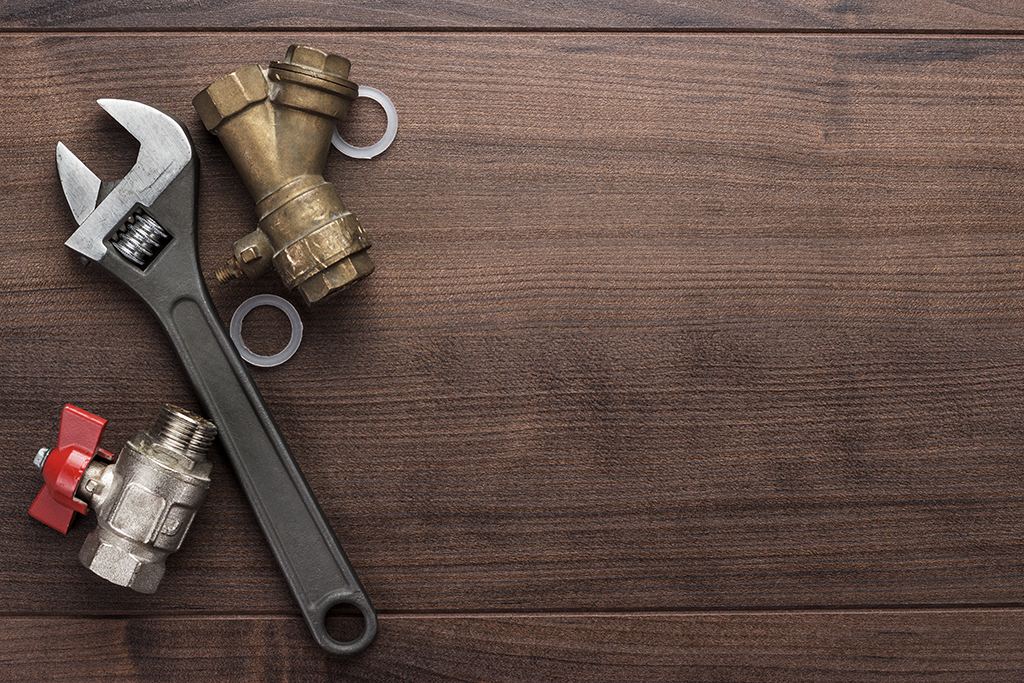 New Tools, Techniques, Resources: Our Plumbing Service | Las Vegas, NV
Photo by Ruslan Grumble at Shutterstock
At Craig's Plumbing of Las Vegas, NV, "satisfaction guaranteed" is the way our plumbing service operates. We've been taking good care of local homeowners since 1997, and they'll tell you we mean what we say. While many of the ways we do plumbing are time-tested, we're also discovering and testing new technologies and materials that we can use to do an even better job for our customers over time. It's a pleasure to keep our plumbing service fresh and innovative, making everything from our late-night 24/7 emergency plumbing visits to our sewer line repairs a better experience from year to year. Don't be surprised if, when you call us for plumbing service today, we have more ways to get the job done than we did before. From drain cleaning and leak finding to sewer leaks and water line breaks, if we can do the job right in a new way and save time and money, it's worth offering it to our customers.
Modern Leak Detection Techniques
Water leaks from the supply line can leave damp areas that grow mold and damage surfaces as they seep through. When the leak comes from a drain line, the risk of contamination is also a concern, resulting in even more expensive cleanup efforts. Hunting for the source of a water leak that often reveals itself as a damp area on the wall or ceiling has usually involved cutting through surfaces until the origin is determined. This can be a plumbing service challenge as water often glides along the pipe and drips decoy-style further along, away from the leak in the pipe itself. Fortunately, our modern leak detection strategies include an electronic leak sensor that listens for the sound of water escaping from the pipe under pressure, performing a sonar-like "ranging" that determines approximately where the leak is located. This is especially helpful when the leak is located in an inaccessible area such as under the concrete basement slab. Even when the leak is easily accessible, valuable wall finishings can be saved using this technique. Tiny video inspection cameras can help our plumbing service find and verify leaks in water supply lines and drains, and make note of the general state of the piping to determine whether more leaks are likely due to corrosion.
Improved Pipe Replacement Technologies
Damage due to vibration of pipes near each other or by other metal objects, accidental pipe damage during remodeling, or even corrosion can lead to the need to patch or replace sections of pipe or even significant repiping. Adding sections of metal pipe required the plumber to be careful about the interaction of some types of metal with others, which could lead to premature degradation. Modern materials and pipe joining techniques have made it easier for our plumbing service to patch, replace, and repipe sections of a home's plumbing and quickly take care of growing risks of leaks and pipe bursting. When the damage is due to corrosion, pipe aging, or undesirable pipe materials such as lead, a complete repiping plumbing service is often the best solution, and it also can add value to an older home. Since the plumbing is already open and being replaced, many homeowners take advantage of the opportunity to add a fresh new look and replace connected fixtures as well.
Video Guided and High-Pressure Drain Cleaning
Many drain clogs are located far inside the pipes, even in the drain lines that go from floor to floor, and so they're difficult to access. Extending mechanical devices that break apart clogs can be an effective solution, and using video inspection gear to check the nature of the clog beforehand makes a big difference. Another solution that is especially helpful when our plumbing service performs a regular drain cleaning service for a client is hydro jetting, where a very high pressure spray blasts clogs and other material lining the pipes and starts the pipes fresh with smooth internal surfaces that won't attract as much debris. Video inspection is essential before most hydro jetting treatments, to ensure that the pipe is in good shape and won't be damaged by the high pressure spray. Hydro jetting with video inspection is also helpful for clearing debris and clogs in the main sewer line, where they can cause backups through the drain lines throughout the house.
Advanced Kitchen and Bathroom Fixtures
New faucets, toilets, and shower heads help to save water through clever strategies where they increase the velocity of a reduced volume of water. Shower heads provide effective spray this way, and toilets use an accumulation of pressure from the water line to jet a reduced flush through the bowl at higher pressure. Modern toilets may also offer a selection of regular or even further reduced water that the user can select as needed. Faucets include new "twist-free" controls such as paddles that can be operated by pushing instead and electronic options that provide hands-free control and automatic shutoff that saves a significant amount of water during hand washing and tooth brushing.
Water Line and Sewer Line Replacement Alternatives
Trench-free alternatives to water line replacement and, most notably, sewer line repair offer a significant reduction in the costs of digging trenches and even disrupting traffic as work is performed under the street to connect new pipes. This technology, when repairing generally intact pipes, uses video inspection and sometimes a remotely operated robotic patching device to place durable patches or even reline the entire pipe using only limited pipe access at the ends.
Your Local Plumber in the Las Vegas, NV Area
At Craig's Plumbing, we're a part of the Las Vegas, NV community and have been for decades, serving our community 24 hours per day. Our plumbing professionals provide drain cleaning, expert plumbing repair, plumbing inspection, and plumbing upgrades along with a full range of plumbing service offerings. Give us a call for emergencies, and to schedule a visit from one of our top-notch plumbers.