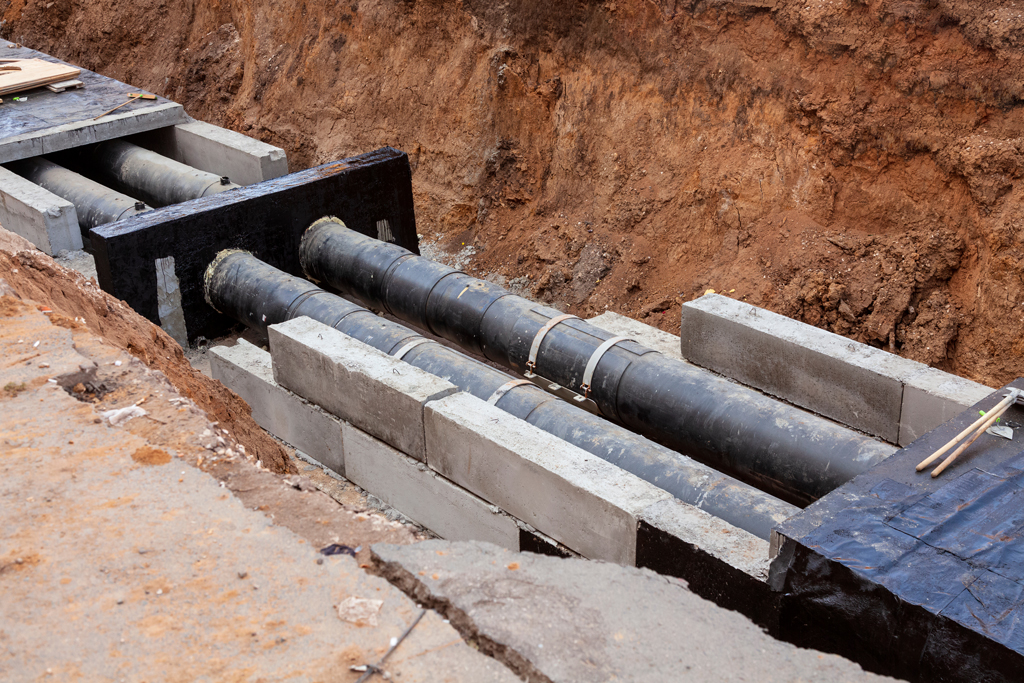 Plumbing Service And Sewer Line Replacement | Las Vegas, NV
Are tree roots in your backyard causing problems, especially with your sewers, such as cracks, leaks, or backups? Maybe you are wondering, should you uproot those trees and leave the sewer or underground pipes in place? There may be a better option; sewer line replacement. You should consult your plumbing service provider in Las Vegas, NV, to look at the possibility of relocating your sewer system and upgrading the pipes simultaneously. Although replacing your sewer line might sound like an invasive and overwhelming activity, you must understand the amount of money it might take you to budget for it adequately.
Why does Sewer Line Replacement Matter?
Several issues could result in slow drainage of your home. These include harmful molding, septic waste pooling in your yard, foundational cracks, and sewer backup into your toilets, sinks, and bathtubs. Sewer line problems must be addressed before they worsen and negatively compromise the structural foundation of your home or even cause many hygiene-related problems. Although hiring a plumbing service provider to repair the sewer system might prove costly, the consequences of failing to replace the sewer system are severe. Fortunately, many new trenchless sewer line replacement methods are easier to complete and more money-saving. From pipe relining and sectional point repair to pipe bursting, your reliable plumbing service provider can complete the entire sewer line replacement in a matter of hours. Hence, to repair the sewer line, talk to your plumber about modern repair methods.
How Much Does Sewer Line Replacement Cost?
The cost of replacing the sewer line varies depending on several factors. Hence, you must know the factors involved in calculating sewer replacement bills. Below are several things that a plumbing service provider considers before coming up with a final cost of replacing the sewer line:
Technology Advancements
New technology means plumbing issues can be more efficiently and effectively resolved today than ever before. Using the inspection cameras, a plumbing service provider in Las Vegas, NV, can take a peek into the interior conditions of your pipes. This means that the plumber can see the sections of the pipes affected by corrosion, leaks, or even bursts without excavating your lawn or yard. When the underlying problem is detected using the inspection cameras, the plumber can shift their attention to the part of the sewer pipe with an issue. This precision point detection of issues means that the plumber will only deal with the affected pipe, minimizing the excavation in your yard.
Additionally, the technician might opt to go trenchless. As mentioned above, many trenchless water and sewer line repair or replacement methods exist. Some include pipe relining, pipe bursting, sectional point repair, and CIPP. Here, the plumber uses a liner impregnated with an epoxy coating to create a new, more durable pipe within the damaged one. Since the resultant pipe has a smooth interior, the wastewater flow greatly improves.
Accessibility
Inconvenient locations where sewer lines might cause issues include under trees, concrete slabs, your property, and parking pads. Because plumbing service providers may have to remove the tree roots and other external objects creating your plumbing issues, the more difficult your sewage issue may be to access, the more money your sewer line replacement may cost.
The Amount and Type of Damage
The kind and extent of the damage you experience will also affect how much replacing your sewer will cost. One minor leak, for instance, is considerably simpler to repair than a sewer line that has sustained system-wide corrosion damage for 60 years. If your pipeline is beyond repair, your system might need to be completely removed and replaced. To clearly understand the procedures involved in your case, review your alternatives with your plumber. A camera inspection could give a glimpse into this. Hence, your plumbing service provider may check the damage extent on your sewer line to determine how much work is required. This will have an impact on the total sewer line replacement cost.
Application and Materials Required
You may have more than one choice when replacing or repairing your plumbing fixture, as plumbers always develop innovative solutions to difficult plumbing problems. For instance, it is no longer necessary to hammer and dig out pipes buried beneath a concrete slab, which would create a significant mess in your house or on your land. Instead, the plumbing service providers in Las Vegas, NV, can now replace pipes by threading new piping through the older pipe. This method was previously unavailable.
And while the new plumbing repair methods are less invasive & help to solve the accessibility issues, it is essential to be aware that the length of the pipe and materials required to replace your pipe add up. This is because the length of the pipe and the kind of materials needed to replace your pipe both add up. To put it another way, the cost of replacing your sewer will increase proportionately with the amount of material you require.
Your Plumber
The price of replacing your sewer line will also come down to the experience level and quality of the plumbing service provider you are working with. Many plumbing scammers out there inflate the prices of materials and services you need. They do this to take advantage of your misfortunes and your property. Unfortunately, the same scammers cut corners, not completing the repairs to industry standards or code. This places you at risk of more plumbing issues. Hence, you must conduct enough research before hiring a plumber to ascertain that they are reputable and have been in the plumbing industry for some time. Only hire plumbers that are licensed and have a proven track record.
Are sewer line issues so frequent that you are considering a replacement? You should first know the total cost of that service. Contact us at Craig's Plumbing for a detailed breakdown of the replacement-associated costs. We also offer a free consultation.
Photo by AXL at Shutterstock