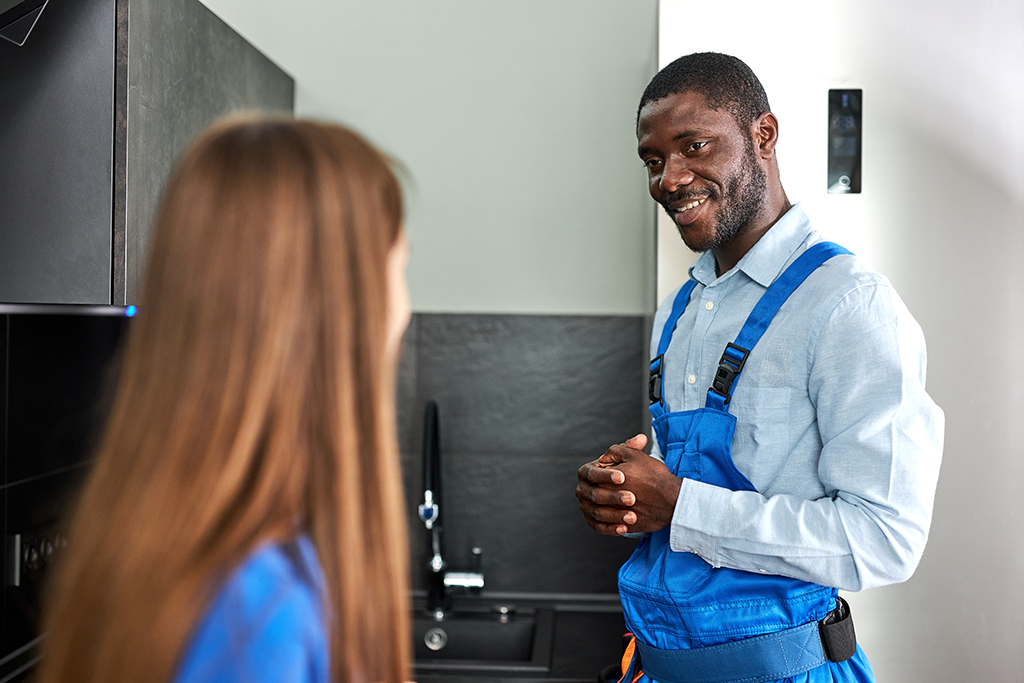 Questions To Ask A Plumber Near Me | Las Vegas, NV
Photo by UfaBizPhoto at Shutterstock
A plumber near me in Las Vegas, NV, is a real resource. The professional provides you with knowledge and guidance that helps you prevent future plumbing issues from occurring. They take the time to get to know you and your needs, so they're able to provide you with outstanding service along the way. When you finally have a chance to speak to the professional about what's taken place, you feel at ease knowing that they'll remedy your situation in a matter of no time.
Not knowing who to hire when you request information about a plumber near me in Vegas. It takes time away from other activities needing your attention. Once you've had the opportunity to reach out to a company with your service request, you can easily decide if it's one that you want to give your business to that day.
Here's What You Need to Know Before Hiring a Company to Assist You
The following questions provide you with valuable insight into the plumbing companies in the area. You can ask a plumber near me in Vegas to answer them so you get a better idea of what they can do for you. Once you're sure you've found the right service provider, schedule an appointment with them and get the plumbing problem you're experiencing resolved.
Here are questions to ask a plumber near me in Las Vegas, NV:
How long have you been working in the area? Companies that have been in business for years have a large customer base. They've done something right by offering excellent customer service. You can learn more about them and what they have to offer you by asking how long they've been in service and how many customers they've taken care of throughout the years.
Are you licensed and bonded? It keeps you from having liability if a company is both. You can find the information on its website in most cases. You may find that it's easier just to ask. When you call a company to inquire about its services, you have the opportunity to get to know it better through the questions you ask. It serves as a sort of interview of a company to see if it's the right choice for you and your plumbing issue.
What specializations do you hold? You may find one company more qualified than another to help you with your issue. Learning the specialties a plumber has ensures that you're able to get the most use out of them. You can easily find that it's best to hire a professional with many specialties. You're able to use their services exclusively that way.
What types of services do you provide? Get to know what a plumber near me in Vegas does by asking. See what they fix and replace. Learn the types of maintenance services they offer. Get to know their work policies. You can find out very quickly if a company can assist you or not with your request for help. If the service is one that the plumber offers, you can hire them without delay.
Do you offer any type of guarantee? If the plumber does, you're well protected. You won't pay for the same repair twice in a short period. As long as a guarantee is in place, the company will send a plumber back to fix what didn't get done satisfactorily. You don't worry about paying for a repair that doesn't last. It gives you plenty of security. If you have a chance to get the guarantee in writing, keep it in a place where you can find it easily. When you contact the plumber near me in Vegas, you'll be able to show them the guarantee and receive the services promised to you.
How long does it take your plumbers to complete a job? It's a common question that gets asked of a plumber near me in Vegas often. Don't worry about sounding redundant. Every plumbing job differs somewhat. You'll learn very quickly what to expect when the plumber tells you the duration of time needed to complete a repair or installation. It's your right as the customer to know what to expect. Don't feel bad asking questions because it's the only way for you to feel good about hiring a

plumber near me

in Vegas that you've never seen or experienced work before.
When you're reaching out to a plumber, remember to ask whatever's on your mind. It helps you gain better clarity over the situation to learn how the professional works and what they can do for you. The best experts are ones that take the time to get to know you and what you need from them. They're quick to respond to your request for assistance and get to know what it is that makes your inquiry an emergency.
The plumber near me in Vegas that you give your business to will be one that you'll count on a lot throughout the years. They'll provide you with exceptional service and be able to tackle the largest tasks with the greatest ease. You can keep their number on hand for the emergencies you experience. You won't be blindly hiring a plumber that way.
Who to Get Help from When You Need It Most in Vegas
Craig's Plumbing offers what you need in a plumbing company. Reach out to us today to have a plumber dispatched to your home. Doing so makes it possible for us to get you the help you require as quickly as possible—Call 702-496-3892 with your request for assistance with your next plumbing project or repair.
We're committed to getting to the root of the issue so that it's resolved correctly. Your satisfaction is our ultimate goal. We want you to feel as good as possible with the work we do for you. Let us know if there's anything we can do to make things easier on you. We desire to offer you 100 percent satisfaction.