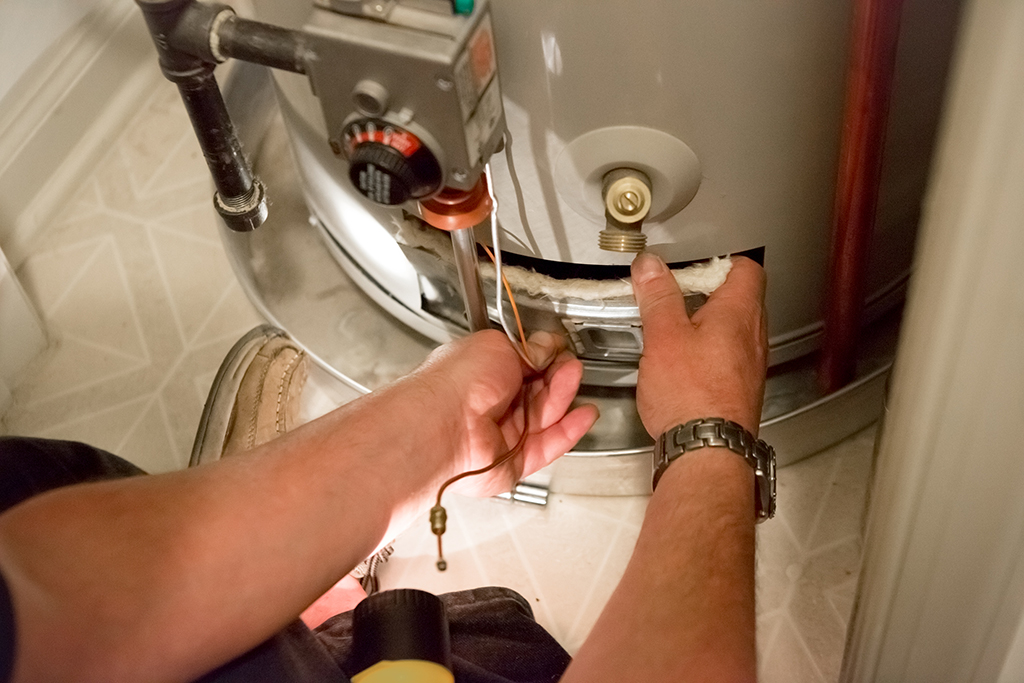 Reasons Not to Perform a Water Heater Repair on Your Own | Summerlin, NV
Picture it, it's a brisk Nevada morning, and you've managed coax yourselves out of your warm bed with thoughts of a warm, soothing shower followed by a hot coffee. You turn on the shower, give it a chance to heat up, submerge your hand in the cascade of water and get shocked by its frigidity. The water heater is not working, and the rest of the household still needs to shower too. It's not a great start to the day, but it's a common occurrence for a water heater to stop working seemingly suddenly. We never think about water heater repair until something like the scenario above plays out.
In most cases, go to the water tank and adjust the tank thermostat. Turning down the water tank's temperature is an excellent way to save energy during the summer months if you aren't already implementing that practice. If the water heater isn't doing its job, the thermostat may have been bumped out of place. If the thermostat isn't the root cause of the problem, it could be a result of any of the following problems:
A faulty thermostat
A leak in the water tank
The gas control or burner assembly might be damaged.
Mineral deposits reducing the efficiency of the water heater.
Temperature-pressure relief valve problem.
A thermostat replacement is easy, but all of the rest requires a professional. The best move is to call a local plumber so you can continue with your day. Before placing your call, make sure you know the age of your tank, size of the tank and type of the vent.
Water Heater Repair
Homeowners love to attempt a water heater repair– or try to – before doing the thing they should have done in the first place and call a plumber.
Winter is officially here, and that means the instances of homeowners trying to perform their water heater repair is going up too.
We get it; you don't want to run up your energy and water bills, and you don't want to incur a whole new invoice for a water heater repair. But trying to save money in this way is fraught with faults.
If you own a home in beautiful Summerlin, NV, particularly an older home full of character and uniqueness, then there's something you must know.
happens when well-meaning homeowners try to save some money by performing plumbing repairs and upgrades themselves—like a seemingly simple water line repair—without the help of a trained and certified plumber.
Fixing things around the home can be successful and rewarding when you know what you're doing. However, plumbing isn't forgiving when mistakes occur; it just makes a regular problem turn into a bigger one.
Don't perform a water heater repair yourself. Call Craig's Plumbing and one of our experts will handle it for you. We will help you with everything from that water line to a whole bathroom renovation. We'll work with you to identify solutions that could save you hundreds of dollars per year in energy and water.
How to Avoid a Costly Water Heater Repair or Emergency
What homeowners should do if they want to save themselves the heartache and cost of a water heater repair is invest in regular maintenance. You don't have to call us, but we hope you'll call a certified and insured plumber who shows up on time and charges affordable rates like us.
Water heater repair is the number one reason Summerlin, NV residents call us during the winter months. However, we suggest having a maintenance check done in fall so we can make sure you're not without hot water during the colder months when water heater downtime doesn't have the same impact. Emergency plumbing calls are both inconvenient and expensive, but annual plumbing maintenance is affordable and convenient.
When it comes to water heater repair, our technicians are known for their unbeaten track record for professionalism, attention to detail, and time management. Plus, we offer competitive pricing on all kinds of plumbing services that homes in Summerlin, NV, will eventually require.
We also do water heater replacement. Still, if you're a savvy homeowner who knows the value of maintaining the condition of a big-ticket item like a water heater, you'll follow the next suggestion.
Our system maintenance service is an excellent way to avoid a costly water heater repair call. Whether it's a brand new water heater or one that has passed, along with the house, from one owner to another, it should be getting annual maintenance checks by a professional plumber if you don't want the heater to break down one winter day without notice.
Your time is valuable, and Craig's Plumbing prides itself on perfect punctuality, which means more time spent on the things that matter and less time waiting for your plumber to show up, assess the problem, and fix it to completion.
Expert, Local Plumbing for Summerlin, NV
In need of a skilled plumber for the Summerlin, NV area? Craig's Plumbing offers you experienced professional technicians that can resolve all types of commercial and residential plumbing challenges. We also provide expert solutions to problems that are probably costing you a lot of money each year.
Above all, we believe in preventative care and hope that you will consider maintaining your water heater with regular cleaning and caring, you will reduce the frequency of expensive plumbing emergencies.
But when that day comes that you do have an emergency, your Craig's Plumbing technician will have everything they need in one truck so you can get back to your regular schedule faster.
Photo By JodiJacobson at istock