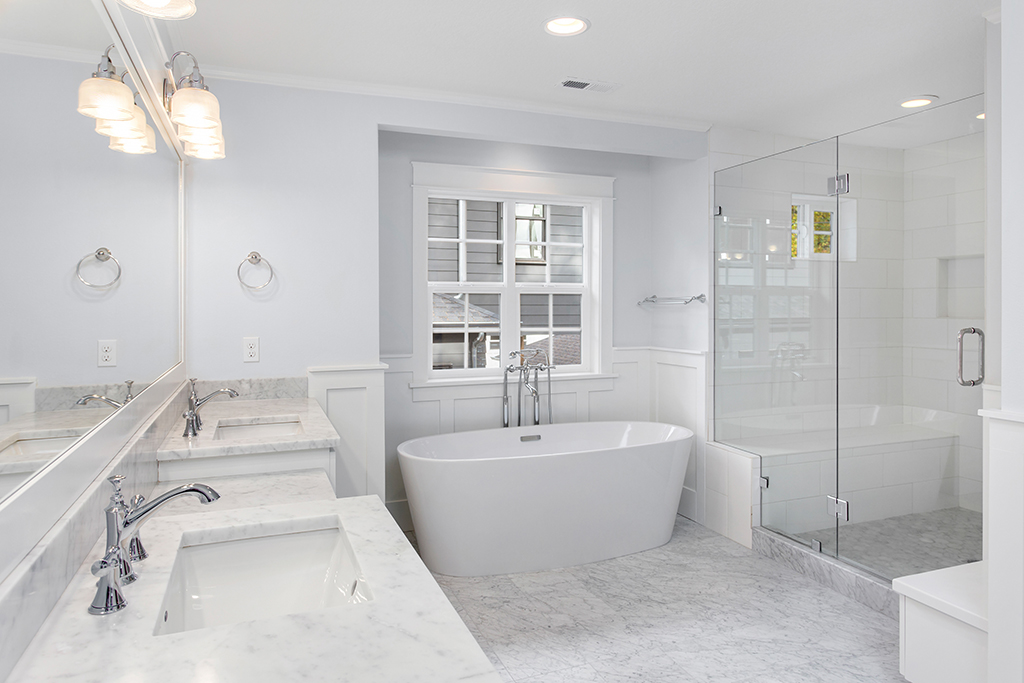 Remodel Your Bathroom With A Plumbing Service | Las Vegas, NV
Did you know the bathroom is the most used part of the home? Hence, it's not surprising that over time due to wear and tear, it will no longer offer the relaxing, spa-like atmosphere that you enjoyed before. If you just moved to a new house, you may wish to upgrade the bathroom to ensure it fits your taste and usage needs.
At least 45 percent of homeowners in the United States plan to remodel their bathroom, making it the second-most popular home remodeling project. Therefore, you're not alone if you want to revamp your bathroom.
A bathroom remodel allows you to design your dream bathroom and have plumbing service done by a professional plumber. If you're uncertain whether your bathroom needs remodeling, below are signs that you need to revamp your bathroom.
Poor Lighting
A poorly lit bathroom may affect your makeup routine. Imagine how frustrating it would be to fix your hair or do your makeup in dim yellow light. Poor lighting in your bathroom is a sign that you may need a plumbing company to help you remodel your bathroom.
The good news is that you won't need to revamp the bathroom altogether. Upon inspection, the plumbing expert may advise you to replace some of your bathroom's light fixtures and sources.
Leaks
If you notice water stains on the room's ceiling directly below, you could have a plumbing leak in your bathroom. This sign is not good because it could mean the leak has caused extensive damage, and you need to seek professional inspections and repairs.
The plumbing leaks could be from fixtures such as sinks, bathtubs, toilets, or shower enclosures. As a homeowner, you should know the telltale signs that your bathroom could leak to avoid expensive future repair bills.
Therefore, if you have a leaky faucet, showerhead, or piping, it's wise to seek plumbing services and check the plumbing system to remodel the bathroom if the problems are persistent.
Obvious Damages
Your bathroom should give you a sense of calmness and relaxation. If you walk into your bathroom and don't experience the comfort it gave you when it was new, you should seek professional plumbing services in Las Vegas, NV, to have it inspected on ways it can be renovated.
Below are some damages that may need you to remodel your bathroom:
Mold growth

Dysfunctional faucets or toilet flushes

Stained ceilings

Stains on surfaces and areas

Chipped or cracked tiles
Overcrowded Space
Overcrowding happens when the old bathroom has a layout crammed to the owner's liking. Hence, a professional plumbing service expert can help them reorganize the bathroom and have it sized, laid out, and organized correctly. This makes your bathroom spacious, and you can freely move throughout the bathroom without touching surfaces or corners of the bathroom.
A complete bathroom revamp also allows the bathroom to be designed to utilize the space and give a luxurious feeling. A competent plumbing service expert can also utilize modern minimalism concepts to eliminate unnecessary areas and create attractive space-saving designs, allowing the bathroom room to be used effectively.
Rust All Over the Place
Rust, a form of corrosion, is caused by water or humidity. If your plumbing is built of galvanized metal, then after some time, you may have to remove all the plumbing because of the extreme corrosion. Rust is not only an aesthetic issue but also presents potential danger in the form of lead poisoning if it passes via pipes and into the water supply.
When you note that you have rusted plumbing pipes, you should seek professional plumbing repair services to fix the problem immediately by replacing the entire plumbing system with PVC or other plastic materials.
Besides the visible plumbing components, it's crucial to have the plumbing company inspect the supply lines running to and from the fixtures for any rust issues. Therefore, if your bathroom in Las Vegas, NV, has galvanized or a metal supply line, you should consider a complete bathroom renovation and have them replaced with plastic for either safety or aesthetic reasons.
Accumulated Mold
Mold thrives in damp and humid conditions, and bathrooms offer such an environment. Therefore, if you have a leaky pipe or moist air in your bathroom, you will face mold issues.When you notice a dark stain along the edge of your shower or tub, you should respond before it spreads into your tile grout. Molds are not only an eyesore but may affect your family's health.
Also, dark spots on your ceiling indicate that your bathroom has been invaded by mold. When you encounter mold problems, you can request plumbing services from a reputable Las Vegas, NV, company.
Increase Home Value
If you're considering selling your home, you may consider remodeling the bathroom to increase the sale price and entice more buyers. Some buyers insist on checking the bathrooms and could be turned off by old and outdated décor.
Even if you are not planning on selling your house, you can still remodel it to enjoy your new bathroom, equipped with the latest plumbing fixtures.
To determine the perfect way to improve your bathroom, you should enlist the help of a professional plumbing service technician and professional designer.
Trust The Pros From Craig's Plumbing To Help!
Do you have a bathroom that needs to be remodeled? We understand how overwhelming it is in selecting the right fixtures. Not to worry, though; our team of plumbing service experts is here to advise you on a smooth remodel.
At Craig's Plumbing, we have qualified plumbers. You can rely on us for various plumbing services such as plumbing maintenance and repair, inspections, garbage disposal replacement, hydro jetting, faucet upgrade, and natural gas piping installation to kitchen plumbing remodeling. Give us a buzz today for a free estimate!
Photo by Justin_Krug at Shutterstock