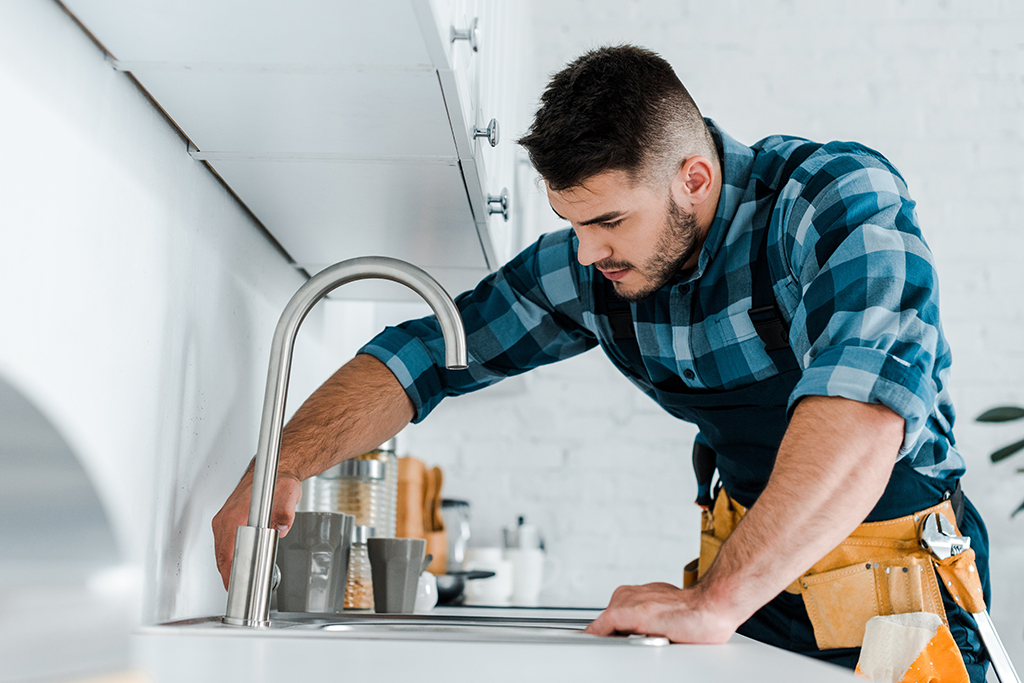 The Benefits Of Retaining A Plumber Near Me In | North Las Vegas, NV
Photo by LightField Studios at Shutterstock
At Craig's Plumbing, we offer customers in North Las Vegas, NV, high-quality plumbing services on various projects, regardless of their size. Whenever people ask, "where is the plumber near me in Las Vegas"? We are ready to respond promptly.
Homeowners do not have to search for assistance with plumbing maintenance, plumbing repair, and other professional plumbing works too far. It becomes easy to have quality work done for all your plumbing requirements with us close.
By being local, when you ask, "where is the plumber near me in my location to handle my plumbing emergencies?" You know us already. Because you know us, you may even recommend us to your friends after we offer you quality services. You can expect a prompt response and excellent services from Craig's Plumbing. We are available 24/7. So, when you have a plumbing problem, make your life simpler by letting us help you. But what are the benefits of hiring a plumber near me in my locality?
The Plumber Knows the Local Soil Type and Water Quality
Water heater, pipe, and other appliance corrosion from the water quality issues, including water hardness, need careful attention to prevent unexpected flooding and leaks. Craig's plumbing knows the type of the local water. So, we can help test the water and diagnose the likely issues. The mineral sediments in the hard water can be a problem for your plumbing fixtures like the water heater.
Soil may affect the sewer line, slab plumbing, and the main water line. The soil can expand and shift based on the weather condition. During the process, it gains and losses moisture, pressuring your pipes and foundation and potentially causing damage.
Therefore, having a "plumber near me in Las Vegas, NV" who listens to your plumbing concerns is vital. Craig's Plumbing technicians factor in the local conditions when suggesting a potential issue or solution.
Plumbing Repair Planning and Inspections Over Time
A good relationship with your "plumber near me in your locality" means you can discuss your upgrade dreams and repair needs for your residential or commercial property. The local plumber can add the missing shutoff valves, repair the faulty ones, and perform routine maintenance of your plumbing. Because of the cordial relationship, you can trust the plumbers to address the items in your plumbing to-do list. During a plumber's maintenance visit, you can invite them upstairs to inspect the master bath and explore the various ways you could add to its luxury.
The ongoing connection with the plumbing service team may result in more reliable plumbing. It could also lead to more beautiful plumbing fixtures and spaces at your home. To prevent crises, we like to inspect and maintain your plumbing regularly. However, we can also install a water-saving toilet, an amazing shower, add a touch-free faucet in all your sinks, including the bathroom. We also can remodel your kitchen or provide various improvements.
A Local Plumber Knows Your Home and You
One advantage of searching for a plumber near me in Las Vegas is that you can find a plumbing service like us. We know the vicinity and the type of homes built around. So, if you recently bought a home, we might have offered you our services in the past. Because we also have handled upgrades, remodeling, installations, and restorations in your new locality, it means we understand its plumbing well. From pipe routing to shutoff valves, we handle your plumbing needs effectively.
Do you suspect your plumbing is leaking? Our plumbers know where to look for common plumbing issues because they may have experienced a similar problem. We also understand that the age of your sewer line and pipes may affect its functioning and know when it is time to get a replacement.
As the plumbers get to know you, they can relate to your life. They remember not to allow the pats out when repairing your water heater, and you will know us by name, Craig's Plumbing. We are here to make your life comfortable by offering quality plumbing services, and from the way we view things, that is a neighborly job.
Handy Fixture and Appliance Installation
You may think of installing a new plumbing fixture, probably moving around a warehouse, and pondering about anonymous installation and delivery. By doing this, you expose yourself to various uncertainties and risks. Ask yourself whether a "plumber near me in Las Vegas, NV" can help.
A plumbing service can help in appliance and fixture installation. They know the best manufacturers and are keen on details. They consider various factors in your vicinity which they know all very well. With this information, the plumber will deliver and install the fixture, connect your garbage disposal unit correctly, and maintain them regularly. They also follow the right and modern methods in the installations or repairs. As our regular customers, we work hard to ensure you get the best services.
Remodeling Assistance With no Uncertainties from Unknown Company
Remodeling can be a challenge, especially if unsure of its type. It also takes time and effort to perform and plan, especially when dealing with a new plumbing service. Therefore, you need a friendly plumbing service with enough experience and suggestions to improve your remodeling idea.
But why not enlist the services of your local plumber in implementing the remodeling design? They know your home and building type and can propose new ideas to make your home more comfortable and appealing. The Plumbing team at Craig's plumbing enjoys helping beautify and improve homes for our local customers.
Do you need a remodeling specialist for your Las Vegas-based commercial or residential property? Call us at Craig's plumbing. We will be glad to discuss the remodeling, repair, and maintenance possibilities with you.
Do I need a "Plumber near me in North Las Vegas, NV?"
Enlisting the services of a local plumber to help with your plumbing needs has a lot of benefits. To begin with, if you have a plumbing emergency, they will arrive at your home in no time. Second, they know the structure and the type of soil in your locality. It means that they have first-hand knowledge of the problems that the soil may pose to your plumbing. A local plumber also knows the quality of water in your vicinity. Therefore, they can advise you on what you might do to prevent the problems caused by hard water.
Do you need plumbing service for your commercial or residential property? Head to your favorite search engine and search for a "plumber near me in North Las Vegas, NV". You will get a list of local plumbing services like Craig's Plumbing.
Call us at Craig's Plumbing or visit our website to learn more about our services. We will dispatch a team of experienced plumbers to come to resolve your problem promptly.