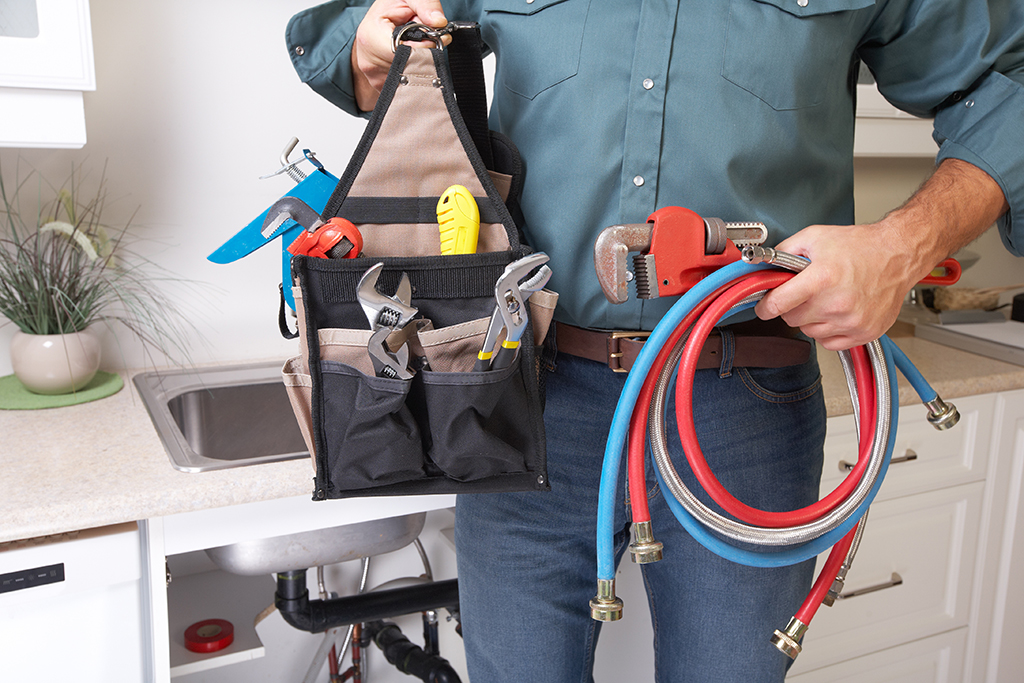 What Plumbing Service Helps You Achieve | North Las Vegas, NV
Photo by docent at Shutterstock
So, you need a plumber in North Las Vegas, NV. You're not alone! Plumbing service is in high demand in major cities throughout the United States. The sooner you request assistance, the faster you resolve the issue, so it is no longer a big problem for you and your family today. When you reach out to a professional for the first time, you'll want to know them better by asking a few questions about their career, years of service, and preferred ways of being paid.
Having the chance to see who you're hiring and why they're the best option based on what you've discovered is ideal. It allows you to make a decision based on fact instead of hearsay. You trust your gut when it comes to how the company makes you feel. You know right away that one plumbing company prioritizes customer service more than another. When you find that one plumber that checks all of your boxes, you can hire it and go about your day without second-guessing your decision.
Experience Better Plumbing Experiences with the Right Plumber
This information makes it easier for you to have a satisfactory experience when you hire a plumbing service to do work for you. You'll have a positive interaction from the very start with the plumber. You'll start to feel more comfortable with them and be able to request their services without incident. That means that you'll always have a reputable plumber one phone call away.
Here's what plumbing service helps you achieve in North Las Vegas, NV:
The best plumbers restore comfort and convenience to your home. After doing without a working toilet, sink, or dishwasher for any length of time, you know how disruptive it can be to your household routine. It's very easy to think that it could be far worse before it gets any better. When you're in a position where things don't work well, it can be very problematic. You and your family are left to suffer the consequences that a plumbing problem causes in the home. When a plumber comes to take care of the problem, things become much more comfortable and convenient for you and your family. You can go back to your normal routine with the greatest ease.
The professionals take pride in a job well done and resolve your issues quickly. The best plumber is one that you can trust to do an excellent job in your home. They take time to get to know the different things taking place with your plumbing so they can offer you the best solutions possible to meet your needs. They may find it possible to give you several options to choose from, making it possible for you to save time and money. You won't need to call to request plumbing service as often because you decided to go with a certain plumber. They can eliminate the need for regular service calls by providing you with routine maintenance.
You feel comfortable calling a good plumber in the middle of the night to request emergency services. Knowing that you're getting the assistance that you need is outstanding. It doesn't matter if it's day or night. You have options that meet your needs and provide you with the help that you definitely could use when you discover your toddler stuck a toy in the toilet and flushed it. You must be able to seek assistance when it's right for you, not when a company decides to honor your request. If you can't find a plumbing service to rescue you from a pipe burst in the early hours of the morning, how is it any good to you? You need that reassurance for sure.
The plumbing service professional lets you know ways to save money to avoid getting stuck calling a plumber too often. The right plumber gives you options that fit your needs. They have your best interests in mind. They give you everything you need to get the problem taken care of in a financially feasible way for you. They stand behind the work they do for you. The professional does their part to make things effortless. They don't want you to worry about plumbing problems costing you a fortune. Instead, they want to make sure that things are done to their best abilities so that the repair work sticks. If you want to see integrity in action, this is proof. It's something that you'll witness firsthand with the right plumber.
North Las Vegas, NV, has plenty of options for you to choose from when it comes to reliable plumbing service. You'll find many companies willing and able to assist you with a wide range of plumbing jobs, including drain cleaning services and sump pump repairs. If you want to have your pipes inspected to prevent something bad from taking place, you can. All you need to do is set up an appointment with a plumber and wait for them to arrive at your home.
There are so many ways to make your plumbing service request effortless. Once you've had a chance to get to know the different companies in the area responsible for making service calls, you'll find the one professional that stands out and delivers exceptional service time and time again. That's the plumber you want to work with always. They make you feel confident in their ability to get the work done well.
Find a Company That You Can Work with for All of Your Plumbing Service Needs
Craig's Plumbing takes every request we receive seriously. We're committed to making your life as easy as possible by answering your call right away. When we learn about your issue, we can resolve it because of the knowledge and experience we have as seasoned professionals.
Call 702-496-3892 to discuss your plumbing needs with us right away. We're here to make your life easier. If you experience plumbing problems in the middle of the night, don't hesitate to contact us. We've got you covered whenever you need help.