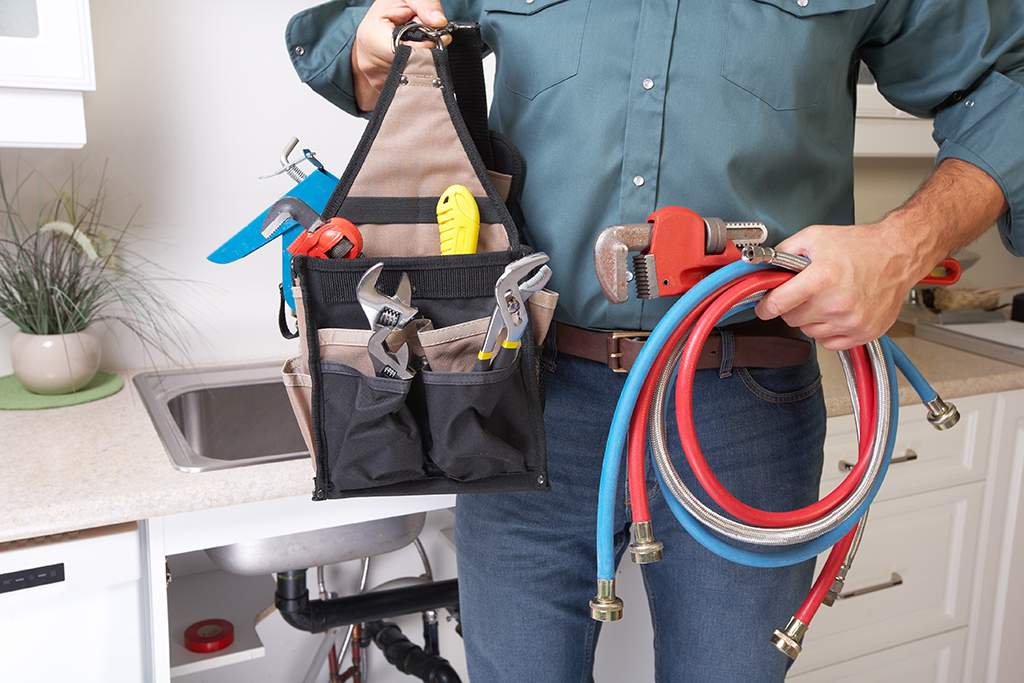 Where To Find A Reliable Plumbing Service | Henderson, NV
Photo by docent at Shutterstock
Have you got Is a dripping tap that keeps you awake at night? Do you start the day with a cold shower? Is your toilet starting to block? If you live in Henderson, NV, you need to look no further than Craig's Plumbing to save the day. We offer a quality plumbing service that is ready to answer your call 24/7.
A Plumbing Service Second to None!
Whatever your problem Craig's Plumbing of NV will mend it. We offer many high-quality services such as:
Emergency Plumbing Service

Plumbing Maintenance

Kitchen Plumbing Remodel

Garbage Disposal Replacement

Bathroom Plumbing Remodel

Water Line Repair

And Many Others
Emergency Plumbing Service
Henderson is the second-largest city in Nevada, after Las Vegas, and like Vegas, it needs a 24-hour emergency plumbing service. Nobody can predict when a plumbing emergency will strike, but if it does you know that you can rely on Craig's Plumbing for a speedy and professional plumbing service.
Plumbing Maintenance
To help avoid those plumbing emergencies we suggest that you have your system regularly checked by one of our highly qualified plumbers. You can schedule annual plumbing maintenance at a time that is convenient to you. The maintenance is also reasonably priced compared to the costs of having to close your business or leave home to undertake repair work.
This maintenance will notice any minor problems and correct them before they need an emergency repair. If any problem is spotted, we will give you a free estimate of what repair or replacement options are best for your needs will cost before we conduct any work.
Kitchen Plumbing Remodel
Are you fed up with your old kitchen, if so, this may be a good time to install a new one? Our expert staff has many years of experience redesigning kitchen spaces, and with their help, you can have the kitchen of your dreams. This will be a good opportunity to replace old pipework to avoid problems in the future.
Garbage Disposal Replacement
Your garbage disposal is a vital part of your kitchen's waste management system. It reduces the amount of work required to dispose of food waste. You will use fewer plastic bags in the disposal of the food and reduce the food waste that ends up in landfills. This has a beneficial impact on the environment by reducing the methane gases produced at these sites.
New garbage disposal is good for your plumbing too, the less food waste that goes down the sink the less likelihood of clogs forming in your drainpipes.
Depending on the model-new garbage disposal should last you many years, but eventually, it will become less efficient due to wear and tear. You may notice unpleasant odors, the blades are less sharp, or it starts to leak. Craig's Plumbing maintains and repairs garbage disposals, but it may be better to consider a complete replacement. A new model will save you money in the long term as it will be more energy-efficient.
Bathroom Plumbing Remodel
This is another quality plumbing service that we offer, and we have helped many homeowners during bathroom remodels. At first, a bathroom remodel seems daunting but with the help of Craig's Plumbing a remodel can be done quickly and with as little inconvenience to you as possible. There are many advantages to having a bathroom remodel, and you can have the bathroom you have always dreamed about.
You can do you away with that old shower tray

Install a walk-in wet room

You can install water-efficient toilets, which use less water per flush

Reduce your water bills

You can replace older pipes with PVC ones

Leading to better drainage and water flow

Replace older sinks with more water-efficient ones.

There are many choices of the sink to best suit your taste and budget
Water Line Repair
Your main water line must often travel a good distance under parking spaces and gardens to enter your home or business. A leaky underground pipe can cause you plenty of problems. If the leak is under or inside your concrete foundation you have a slab leak.
Water damage to the foundation will undermind the structural integrity of your property. A leak could create sinkholes and wash away the topsoil in your garden and wreck it. A leak is not always easy to detect, but there are some signs to look out for.
Larger than expected water bills – a leak runs 24/7 and your water bills will soon mount up

You see water pooling around your property – this is a sign of a slab leak

Your lawn is green and damp – if this occurs even during a dry spell, you probably have a water line leak

Your ground floor is warm – unless you have underground heating this may be due to a leak from the hot water line

There are cracks on your concrete floor – as the water under the concrete foundation alternately expands and contracts, as it freezes and then thaws, the pressure will cause cracks to appear.
We have advanced equipment to help locate any leak and determine the extent of any damage. Depending on the location and extent of any damage the pipes may need to be dug up and replaced. We may be able to reline the existing sewer line without the need for digging. Whatever damage has occurred you can rest assured that we will complete the repair as quickly and with as little mess as possible.
And Many Others
We provide many other plumbing services, from fixing burst pipes to repairing broken down water heaters. Whatever your plumbing you can rest assured that we will be on hand to help you.
Craig's Plumbing of Henderson, NV
We have been offering quality plumbing service to the citizens of Henderson, NV for many years. We are the best and to prove this we offer a 100% guarantee for your total satisfaction. We will make certain you are more than happy with the work we do! We have more repeat customers than any other plumber in the area! Whatever your plumbing needs please call us at Craig's Plumbing today!