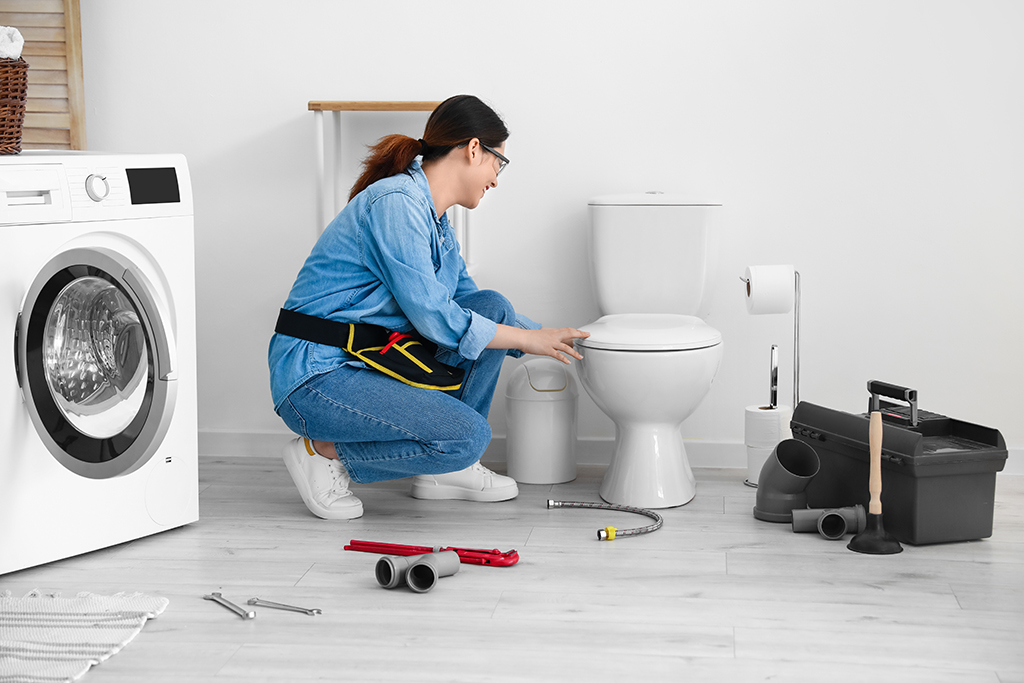 5 Signs To Search For A "Plumber Near Me In" | Las Vegas, NV
Your home's plumbing system is essential to your daily life. You need running water multiple times throughout the day, and you need water and waste to drain correctly. If any part of the plumbing system in your home isn't working correctly, DIY repairs aren't recommended.
Plumbers undergo thousands of hours of training and apprenticeship to learn their craft. If you have no plumbing training, you should start a Google search for "plumber near me in Las Vegas, NV." The sooner you hire a plumber, the sooner your plumbing system will be up and running again.
If your plumbing system experiences any of the following problems, it's best to call a licensed plumber right away.
#1 Clogged Drains
Drain clogs can affect the speed that the water drains if it drains at all. As careful as you are with what you put down the drain, food, grease, soap scum, and hair will clog the drain over time.
Small clogs cause the water to drain slowly, which is frustrating when you're doing something that requires the water to run. The shower will fill quickly, and you'll be standing in several inches of water by the time you're done. If you allow the sink to run for too long, it could overflow, and large clogs can prevent the water from draining.
Many people try a liquid drain cleaner to remove the clog, but you can't be sure if the entire clog was cleared. If it isn't, the water will start draining slowly again. Also, these products contain harsh chemicals that can damage the pipes.
The best way to ensure the entire clog was removed safely is to Google "plumber near me in Las Vegas" to find a licensed plumber.
A plumber can use a drain camera to find the clog's location, and they have the tools necessary to remove the entire clog safely.
#2 Clogged Toilets
It's not uncommon for your toilet to clog occasionally. If someone flushes too much toilet paper and waste, or something that shouldn't be flushed, the toilet will clog. In many cases, you can use a plunger to break up the clog enough that it can be flushed. If the plunger doesn't work, it's best to perform an internet search for a "plumber near me in Las Vegas."
The plunger isn't working because the clog is too large, too solid, or located too far in the drain pipe for the plunger to be effective.
A licensed plumber has the tools to remove the clog, and they can remove the toilet to reach the clog if necessary. You won't be able to use the toilet until the clog is removed, so it's best to hire a plumber immediately.
#3 Water Heater Issues
Although your water heater is technically an appliance, it's also crucial for your plumbing system. The water heater heats and stores water, and if it isn't working correctly, it can affect the hot water temperature and your ability to use it.
If your water heater experiences any of the following problems, you should start a Google search for "plumber near me in Las Vegas."
You have no hot water.

The hot water doesn't get hotter than lukewarm.

You hear strange sounds coming from the unit.

Poor hot water pressure

Brown or rust-colored hot water

Moisture or water pooling around the unit.
Ignoring the problem can further damage the unit, and it's best to search for a professional plumber. 
#4 Leaks
Plumbing leaks occur when the pipes are rusty and corroded or if the fittings are loose. Leaks are serious because you'll waste a lot of water, causing your water bills to increase significantly. Also, leaks can do serious water damage in your home, and promote mold growth, so you should do an internet search for "plumber near me in Las Vegas, NV."
Some leaks are easy to detect, like leaks under the sink. When you open the bathroom or kitchen cabinet under the sink, you'll see pooling water. Leaks behind the wall or under the house can be more challenging to notice. Leaks behind the walls often cause water spots on the walls or ceiling, and leaks under the house can cause the basement floor to feel warm, puddles in the yard, and damage to your home's foundation in more severe cases. The only sign of a leak will be higher water bills in some cases.
You can find a plumber by performing a Google search for "plumber near me in Las Vegas, NV." The plumber can use leak detection equipment to find the leak to make the necessary repair, preventing further water damage.
#5 Dripping Faucet
Some people think that a dripping faucet is nothing more than a minor nuisance, but it's actually a problem that should be fixed right away. You can find a plumber by performing an internet search for "plumber near me in Las Vegas." There's a reason the faucet is dripping, and ignoring the problem will cause the dripping to escalate to a steady stream. Also, a dripping tap wastes a significant amount of water. A faucet that drips one drop per second wastes up to 11 gallons of water per day, and 330 gallons per month, which will increase your bill.
If your faucet is dripping, it's best to do a Google search for "plumber near me in Las Vegas," to resolve the problem quickly.
Why Choose Craig's Plumbing?
If you have a plumbing problem, rather than performing a Google search for a plumber in Las Vegas," call Craig's Plumbing. We are a family-owned and operated, full-service plumbing company, serving customers in the Las Vegas area since 1997. We provide plumbing services, including clogged drains, leaks, water heaters, toilets, fixtures, etc. We also offer emergency service 24 hours a day, 365 days a year, which is helpful if you have a plumbing issue that cannot wait until regular business hours. If you have a problem that isn't emergent, we have flexible appointments and weekend appointments available.
We do our best to keep our prices down, so our services are affordable, and for a low monthly fee, you can be a member of the Preferred Member Club. This club offers several benefits, including;
Front-of-the-line service

A free annual inspection

Discount of services and repairs

Service guarantee

Fixture guarantee
Before our plumbers start their jobs, they give our customers a written estimate upfront, so there are no surprises when it's time to pay for the service.
If you need to schedule an appointment for plumbing service, don't waste your time on a Google search for "plumber near me in Las Vegas," and give us a call at Craig's Plumbing.
Photo by Pixel-Shot at Shutterstock