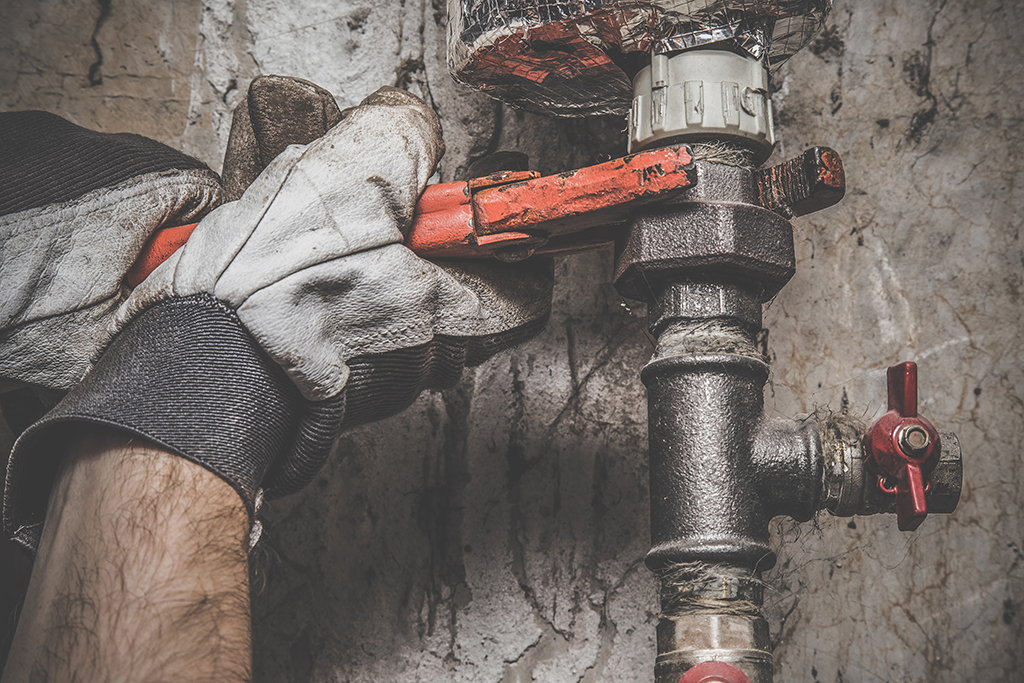 6 Signs That You Need To Call A Plumber | Las Vegas, NV
Photo by FotoDuets at Shutterstock
Many Las Vegas, NV homeowners, make home improvement projects, DIY projects. Many people do this in hopes of saving money, while others enjoy the feeling that they accomplished something. While DIY projects are great for certain projects, such as retaining a deck or repainting a room, some jobs should only be handled by a professional. Plumbing jobs are a perfect example.
The plumbing system in your home is a very complex system. If you make one small mistake, you can end up causing more damage. There are several jobs that should only be handled by a licensed plumber.
#1 Slow or Clogged Drains
If the drains in your home are slow or clogged and can be very inconvenient. Many homeowners will try to fix the problem themselves using liquid drain cleaners. This is a bad idea because these products don't always work. Even if the water flows down the drain, it doesn't mean that the entire clog has been removed. If this happens, it won't be long until the water starts draining slowly again. Liquid drain cleaners contain chemicals that can be harmful to your pipes.
Many homeowners will try to use a drain snake to remove the clog. If you try this and don't know what you are doing, you could puncture the pipe, causing even more problems.
The best way to remove a clog and get the water flowing freely down the drain is to call a licensed plumber. They will know the best way to remove the clog safely.
#2 Poor Water Pressure
If you are suddenly dealing with poor water pressure, you should call a licensed plumber immediately. The issue would be something simple like a clogged aerator in the faucet or shower head. The problem could be something more serious, and there could be a leak in the waterline. If this is the case, the water will continue pooling behind the wall, causing serious water damage or mold growth.
If your water pressure is suddenly poor, you should call a licensed professional right away.
#3 Rusty Water
If you turn on the water in your home, and it has a brown tint, it is probably rust. This is an emergency situation, and you should call a licensed plumber immediately.
If just the hot water is coming out rusty, there is likely sediment builtup inside your water heater. If the hot and cold water is coming out rusty, your pipes are likely corroded.
It isn't safe to bathe in rusty water. It also isn't safe to cook with it or drink it. The sooner you have a licensed plumber come to your home to make the necessary repairs, the sooner your water will be safe to use.
#4 Water Heater Issues
The water heater in your Las Vegas, NV home, is one of the most important appliances. If your water heater isn't working properly, you won't be able to shower, wash your dishes, or do your laundry. It can be difficult to perform everyday tasks without hot water. If you notice any of the following issues, you should call a licensed professional immediately.
The water isn't getting hot or hot enough.

Your water heating is making strange sounds.

There is moisture around the water heater.

The hot water is coming out rusty.
Water heater repairs should never be a DIY project. If you make one simple mistake, you could end up doing more harm than good. Also, if your water heater is under warranty, it will be voided if you try to perform a DIY repair. It would take the knowledge and experience of a licensed plumber to figure out what is causing the problem and make the necessary repairs.
#5 Gurgling Sounds Coming From the Drains
If you hear gurgling sounds when water goes down the drain in your home, you should call a licensed professional. This problem occurs when there is a large clog in the pipes. If the water cannot get down the drain through its natural path, it will need to change directions to find a way down the drain. When the water changes direction, it will cause a gurgling sound. If you don't call a professional when the problem first begins, you could end up with a full-blown clog, making it impossible for the water to go down the drain.
#6 No Water Available
If you turn on the water and nothing comes out, it is considered an emergency, and you should call a plumber immediately. There could be a blockage inside the pipes, making it impossible for water to get to the faucet. If you allow the problem to persist, you could end up with burst pipes. There could also be a leak somewhere in the pipes, which can cause serious water damage or mold growth in your home. Because having no running water can make life very inconvenient in the home, it is essential that you call a licensed professional immediately.
If you have any issues requiring the help of a licensed professional, contact Craig's Plumbing. We are a family-owned and operated business and have been serving residential and business customers in Las Vegas and the surrounding areas since 1997.
When you work with us, there will be no hidden costs or surprises. Before our plumber event begins the work, they will give you a written estimate.
We understand that plumbing problems can come up at any time of the day or night, which is why we offer 24/7 emergency service. Even if your plumbing problem isn't an emergency, we still offer same day service. We understand that any plumbing problem is an inconvenience and will do our best to get to our home the day you call.
Our professionals at Craig's Plumbing understand that you live a busy life and may not be able to take a day out of work to have your plumbing problems repaired. This is why we offer flexible weekday and weekend appointments.
To schedule an appointment with one of our licensed plumbers, give us at Craig's Plumbing a call today.