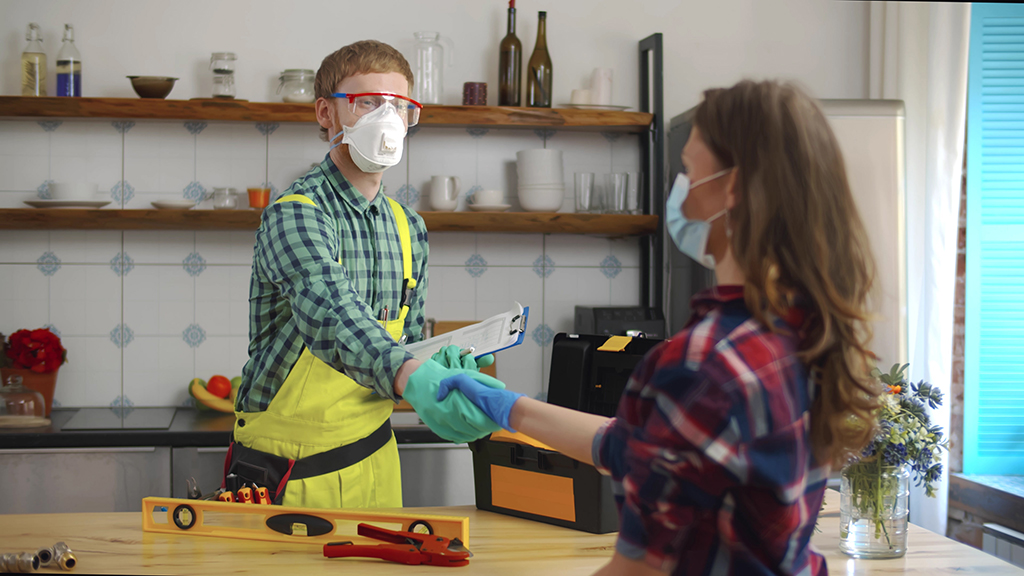 8 Signs That You Need A Professional Plumber | Henderson, NV
Photo by TommyStockProject at Shutterstock
Did you know that fixing simple water leaks in your home can lead to about 10 percent savings on water bills? Efficient plumbing systems help safeguard homeowners and their families from water-borne diseases and various health problems caused by mold and mildew. They help save money on utilities and assure steady water flow to different user points in your residential premises. Because water is a basic need in every household, it's almost inevitable to encounter a few issues that require attention from a professional plumber.
These plumbing issues, including blockages and leaks, usually result from aging systems and poor installation and handling. Not to worry, though. Here are some tell-tale signs indicating the need for hiring licensed plumbers to restore normalcy in your home.
Leaky Pipes
As a homeowner, you've most likely encountered leakages in the pipes supplying water in your house. This could be caused by excessive water pressure, incorrect pipe laying, cracks, and faulty joints. Leaks can also emanate from corrosion and clogs. They lead to water wastage and create a conducive environment for mold and mildew growth, which thrive in damp places. For this reason, if you notice wet spots on the floor and walls or visible cracks in your plumbing system, be sure to contact a professional to fix them to prevent secondary damages to walls, ceilings, and household furniture.
Skilled plumbers conduct thorough inspections and use advanced equipment to detect leaks in pipes running beneath the floor and behind walls. In most cases, significant leaks lead to a lack of or inadequate water supply to the house. If that's the case, do not hesitate to seek the services of a dependable plumbing company.
Dripping Faucets
Dripping faucets are not only wasteful but also annoying. Worn-out washers, improper installations, and corrosion are usually the main culprits for dripping faucets. At times, a simple washer replacement should do the trick. However, it's recommendable to engage certified professionals and schedule regular maintenance, where they run comprehensive diagnostic tests to ensure that your plumbing system is running efficiently.
The impact of dripping faucets may seem negligible at first but prove costly once the leaks manifest in multiple user points such as kitchen taps, shower heads, and other taps in the house. Informing a professional on time goes a long way in mitigating further damages.
Clogged Drains
Slow or clogged drains usually indicate the need for potential plumbing repairs or replacements. The primary cause of blocked drains is improper disposal of garbage, such as dumping food containing fats in kitchen sinks. They also happen once there is a build-up of soap, hairs, and foreign objects in the drain, restricting the normal water flow.
If you notice the slow flow of waste waters in multiple drains, contact an experienced plumber to assist with drain cleaning. It's not advisable to attempt unclogging drains by yourself, especially those that convey human waste, to reduce the chances of escalating sewage backups or causing further damages.
Low Water Pressure
As a homeowner, you should be worried when you encounter weak water pressure from your tap's flow. It's usually associated with hidden water leaks, pipe corrosion, and blocked or cracked sewer drains. Low water pressure also comes with great inconveniences. Thus you should hire a plumber as soon as possible to fix the issue before it develops further and restore normal water flow. Timely repairs and advice from professionals can help you avoid costly replacements.
Leaking Hose Bibb
You may notice leaks on hose bibbs, the faucets located on the exterior of your house, during spring and summer, following long winters. The leaks result from cracks formed on the outside spigots when the weather drops to temperatures below freezing. When faced with leaking hose bibbs, be sure to contact a certified plumber to restore them to their pre-damage condition and assist with reducing the chances of future leaks.
Water Heater Problems
Hot water plays a crucial role in homeowners' daily operations in Henderson, NV, including dishwashing, cooking, bathing, and laundry. In most cases, malfunctions in hot water heaters are attributed to plumbing failures, including corrosion and sediment build-up and poor installations, and broken heating elements.
Professionals usually assist homeowners with flushing their water heater tanks to remove sediments and mineral deposits that interfere with heat transfer. They also help clients understand suitable types of water heating systems, including the right size to serve their roofing needs.
Running Toilets
You know that you have a running toilet if you notice that the water does not stop running after the normal flush cycle. Running toilets not only leads to water wastage but also drives up the water bills in your house. They result from faulty flapper seals, corroded toilet handles, or even overflows from refill tubes. Homeowners may find it challenging to locate the cause of running toilets; thus, they should seek assistance from licensed plumbers.
Sump Pump Failures
A sump pump protects your home from rising waters and flooding that's associated with heavy rains. Owing to their critical role, sump pump failures cause jitters among homeowners. Malfunctioning sump pumps can lead to sewage backups at various drains and, consequently, contamination of food and water items, posing a significant health risk to family members. Reach out to professionals to fix malfunctioning sump pumps.
Clogged discharge pipes, stuck switches, and improper installations are primarily responsible for sump pump failures. Also, sump pumps may experience frequent breakdowns as they become older. A majority of plumbing companies are experienced in fixing sump pump failures and offering assistance with preventive maintenance.
A Reliable Plumber
Craig's Plumbing is a full-service plumber serving homeowners in Henderson, NV, and surrounding areas. Our professionals are well-versed in plumbing repair, installation, maintenance, replacement, and remodeling. We are also available 24/7 for emergencies. When faced with leakages, slow and clogged drains, septic tank maintenance, and water heater replacements, do not hesitate to call us, and we'll deliver quality services.