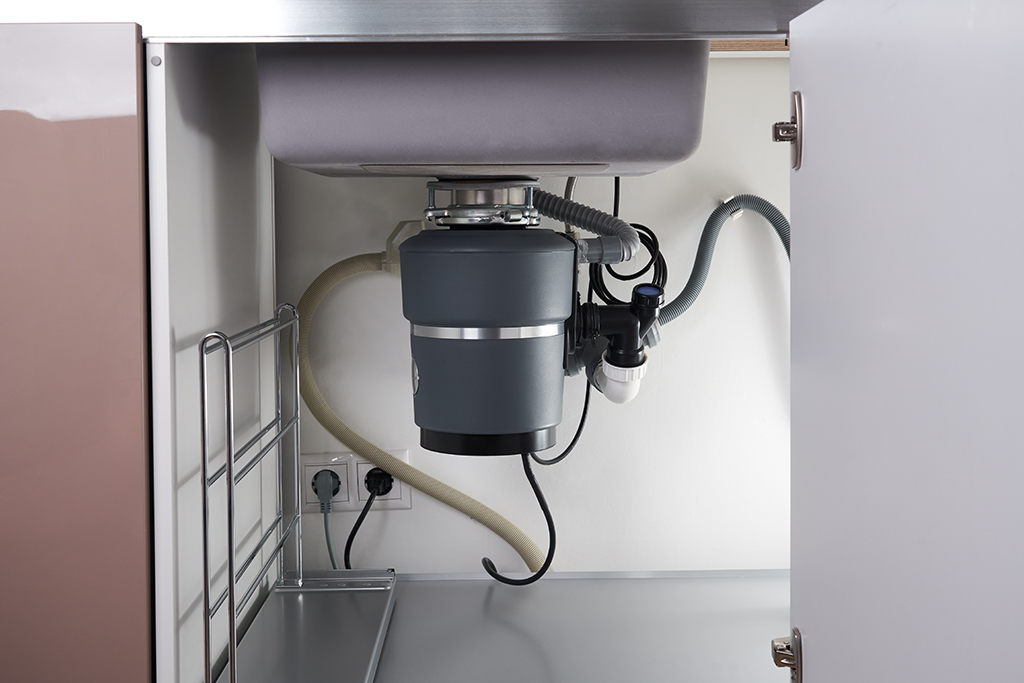 Garbage Disposal Installation: Plumbing Service | Las Vegas, NV
A garbage disposal is a motor-type appliance that grinds down food waste. It's a good option if you wish to effectively manage food waste. If you're thinking of getting one or replacing your old unit, get a professional plumbing service in Las Vegas, NV so that a licensed plumber can help you properly install the new unit. Our team can also help you determine which type of garbage disposal to purchase for your home.
What Are The Two Types of Garbage Disposals I Can Purchase?
You can choose from the continuous-feed garbage disposal or the batch-feed garbage disposal. Which unit to purchase for your home depends on what your needs are and how much the budget is.
Continuous Feed – With this type of garbage disposal, you just flip the switch and its motor will start to grind all the food scraps. You might want to purchase this unit if you have a large family and have a lot of food waste. But this isn't the most-energy option as it uses a lot of water and will continue to run until you actually turn it off.
Batch Feed – For this type of unit, you'll need to toss the food in batches, up to 5 cups at a time. If you prefer a quieter and safer garbage disposal, then this is the best option for your home. Get a plumbing service today so that our plumber can help you choose a disposal and install the new unit.
How to Choose a Garbage Disposal
Do you need a new garbage disposal? Use the helpful guide below to help you choose the right unit.
Motor Power
For smaller families, we recommend getting a smaller garbage disposal to save money, about 1/3 horsepower would do. However, if you frequently make your meals at home and have a large family, we recommend getting a bigger one. Don't forget to get a professional plumbing service for the installation of your new unit.
Cost
If you're looking for a more affordable garbage disposal, buy the continuous feed type and get a professional plumbing service for the installation of your new unit. The other type of garbage disposal is easier to install though but costs more. Some models also feature built-in silencing and protector technology but they may also be more expensive. Speak to one of our plumbers to help you decide which unit is right for your home.
Quality
When buying a new garbage disposal for your home, always prioritize durability and quality first, and price second. If you're unfamiliar with the different types of garbage disposals, we're more than happy to help you make an informed decision. Just call us for a plumbing service and our staff will schedule a plumber for your location immediately.
Safety
If there are children in your household, we suggest getting the batch-feed garbage disposal for safety purposes. This type of garbage disposal doesn't start running unless it's completely covered, making it the safest option for your home. The only downside to this is that it's a little expensive. Get a plumbing service in Las Vegas, NV so that our plumbers can help you make a decision.
A garbage disposal can also come with additional features, depending on the model. It may have auto-reverse options, easy installation, or a unit resistant to bacteria. Get a plumbing service if you wish to know more.
How to Maintain the Garbage Disposal
Do you want to keep your garbage disposal unit in top shape? You can avoid costly repairs when your garbage disposal is well-maintained. Check our helpful tips below and get a plumbing service if you have questions or are ready to install a new unit.
Don't overload the garbage disposal. How much food the garbage disposal can grind depends on the unit's size. Make sure you don't toss in a lot of food as it might damage the motor. Also, break down large food waste first before grinding them.

Read the manufacturer's manual before using the garbage disposal. If you're confused with the instructions, don't hesitate to talk to a plumber. Also, avoid grinding down animal bones or potato peels as that can also damage your garbage disposal. If you need assistance on how to properly use it, feel free to contact a plumber in your area.

After grinding down the food waste, consider running the garbage disposal for up to a minute to send all food waste down your drains. Also, don't forget to regularly sanitize your garbage disposal with lemon and water to remove bacteria and keep it smelling fresh and clean.

Never use chemical-based drain cleaners when removing clogs as they pose health risks and are harmful to your pipes. Use natural cleaners instead or contact a plumber for assistance.

If you suspect something is stuck in the unit, never attempt to repair that on your own as it can be dangerous. Contact a licensed plumber to help you resolve the problem.

When there are issues with your garbage disposal such as leaks or it simply won't run, don't ignore the problem. Get in touch with a plumber right away so they can inspect the unit.
Contact Craig's Plumbing
Do you need plumbing service in Las Vegas, NV? We're here to help. We are a licensed and insured plumbing company with several years of experience in the industry. Our team of experienced plumbers never cut corners when it comes to repairs. Rest assured, we'll do our best to ensure that all problems are permanently resolved. We're also fully equipped so there's no need to call us again if something else comes up. Our team will fix the issue as soon as possible. Craig's Plumbing specializes in emergency plumbing, clogged drains, leaks, water heaters, and more. Feel free to get in touch with us if you want to know more about our services. You can also contact us today for an appointment.
Photo by mariakray at Shutterstock