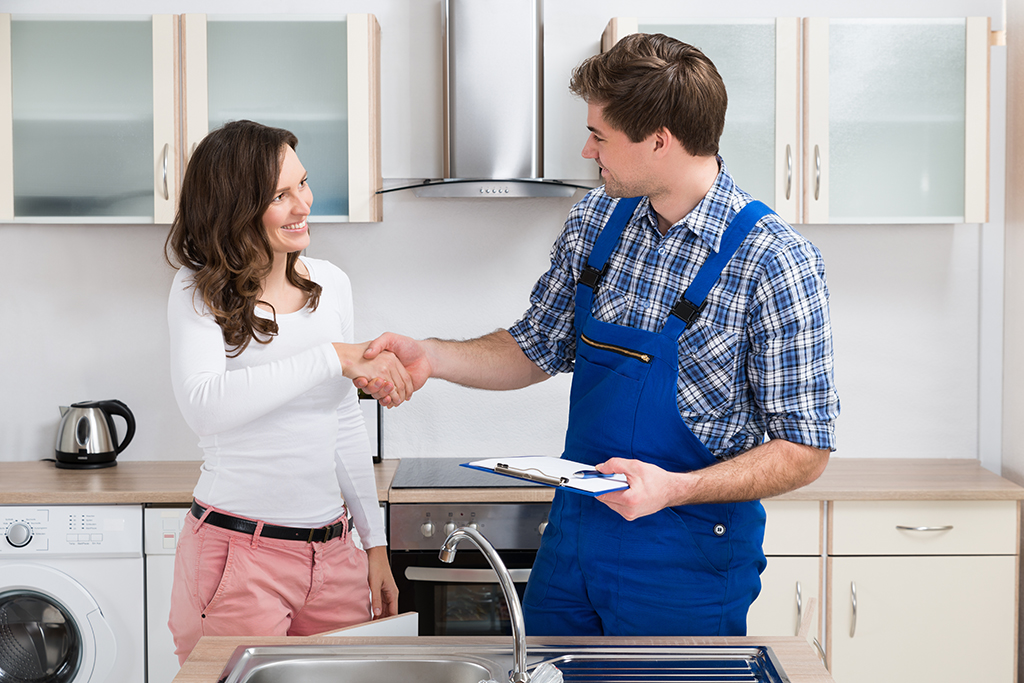 How To Hire The Right Plumbing Service | Las Vegas, NV
Photo by Andrey_Popov at Shutterstock
Choosing a plumber can be a hard decision, if you are not sure what to look for. Plumbers help us maintain and fix our pipes, so we can drink water, use our bathroom, among other things. Plumbers help us with our basic needs and finding the right one is beneficial to our lives. The question could be what to look for in a quality plumbing service in Las Vegas for your residential or commercial property? There are some things to look for when hiring a plumber.
Make Sure the Plumber is Licensed

– Even though every state does not require plumbers to be licensed, you can still check for any complaints made against the plumber.
Use an Insured Plumber

– The next step is making sure the plumber has insurance to protect you and the plumber, in case of an accident or injury.
Professional Experience

– You can inquire about their length of time as a plumber. Ask how long they have been a plumber, to show a record of experience in business. If the professional comes from a large

plumbing service

company, they are likely to have more experience.
Get Estimates for the Project

– Estimates make sure that you're clear on the work that needs to be done. You can also ask questions and make sure the plumber is not providing subpar work. You should get up to three estimates from plumbers, to see who has the best deal for your needs.
Gather Information on Warranty

– It's also important to make sure the work is guaranteed and under warranty. Many plumbers cover the work and parts for up to one year. If the

plumbing service

does not warranty the work, it is best to find another professional.
Ask for References

– You can also ask for references from the plumbing service. It's good to hear from prior clients to hear about quality work. If the plumber does not provide references, then seek another plumber.
Ask about Payment Options

– You can ask

how the plumber wants his payment

. Many plumbers want payment after completing milestones of a large project. and usually want payment after the project is done. If the plumber requires payment up front, it's best to find another plumber to work with.
One major point is hiring a plumber to do long-term projects, to build a relationship. Hire a plumbing service first for installation and not for a crisis, to become a regular customer. The plumbing service is likely to respond to emergencies of a regular customer after hours on the weekend, or late-night leaks.
It's important to get a plumber who understands the state codes in the Las Vegas, NV area. The professional should understand the residential and commercial design of the plumbing systems in your area to provide quality work. The plumber should be able to work in a finished environment, meaning create and fill appropriate holes in walls, or place a scrap of carpeting to cover a floor. To connect with a quality plumber, you can find a general contractor, who works with a quality plumber. The general contractor will not risk their professional reputation on a subpar professional. They also want to keep satisfied customers as well. You can also ask friends and neighbors for referrals to a plumber.
There are things you can do to maintain healthy water systems. You can fix everyday clogged drains and pipes on your own without a plumber. Here are some tips for plumbing maintenance:
Be Careful what you Flush in the Toilet

– Only flush your personal waste and toilet paper down the toilet. Other paper and plastic goods, like cotton swabs and sanitary napkins are not biodegradable and belong in a trash can.
Stop an Overflowing Toilet

– If you see water about to run over the toilet bowl, open the tank and push down the flush valve, to stop the water. This will buy you some time to fix the problem source.
Clear a Toilet Blockage

– To stop a blockage, pour hot water in the bowl until it's full. Then pour liquid soap in the bowl, where the hot water and soap will move the stoppage.
Clean Shower Heads

– Unscrew the shower head, soak it in vinegar for 24 hours. This will remove build up of minerals in the shower head. If it does not clear up, replace the shower head.
Check for Leaks Regularly

– A running toilet can cost you a heavy water bill. Make sure you check for any leaks and get them repaired as soon as possible.
These tips can prevent long-term damage to your piping system. These steps can also save you money in the long run as well. However, if you have issues that are beyond your everyday problems, find a plumbing service to meet your needs. It's best to find a plumbing service who handles both emergencies, such as leaky pipes, and remodeling or nonemergency projects, like installation of new pipes. This limits the amount of work to do in finding another plumber when needed.
You Can Hire Us for All Plumbing Needs!
If you live in the Las Vegas, NV area, call Craig's Plumbing for all of your plumbing needs, both emergency repairs and remodeling projects. Craig's Plumbing is a licensed and insured company providing plumbing services since 1997. Craig's is family-owned and operated, available 24/7 with same-day service, including weekends. The company provides 100% satisfaction guaranteed with all work. If you're not satisfied with the job, your money is fully refunded. The company has a one-year warranty, where if anything goes wrong during the year, it will be fixed free of charge. This also includes not cleaning up the work, or the professionals arriving under the influence of drugs or alcohol. In addition to the one-year warranty, Craig's guarantees 20-year satisfaction on a whole-house repiping project. If any pipe fails, the company will repair the failure at no charge. Rest assured knowing that your plumbing system is safe in the hands of our professionals.