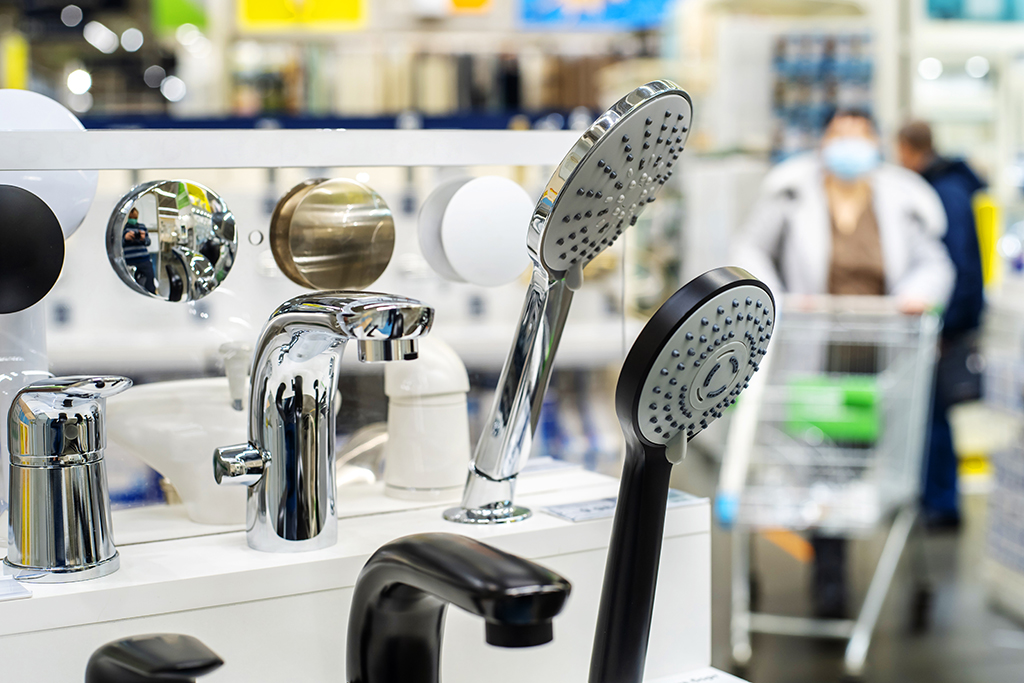 Plumber Tips: Beauty, Convenience, And Water Savings | Henderson, NV
Photo by Dmitry Markov152 at Shutterstock
The three choices of a beautiful new bathroom, convenient plumbing fixtures, and water savings are actually all combined benefits from having our plumber perform upgrades for you. Add the kitchen, invest in pipe inspections and repairs, and you'll be watching your water use and related bills go down in addition to your enjoyment of life at home going up. It's a win-win deal, and with the way water supplies have been dwindling in Nevada and elsewhere, it's a wise investment in your home. We're Craig's Plumbing, local plumbers serving Henderson, NV with great new ideas and plumbing features, along with expert repairs, plumbing inspections, slab leak detection, and other services. If you've only called a plumbing company for problems in the past, you're missing out on a lot of possibilities for improvement in your home.
Starting with the Bathrooms
As part of your remodeling plans, or just as a fixture update that will add sparkle and a modern look to your bathroom, there are new plumbing fixtures that our plumber can install which will make a big difference in your water use as well as your morning routine. The EPA has released astonishing estimates of the tens of thousands of gallons that a typical home can save by making simple changes in their appliances, fixtures, and water use habits. Many of the newer fixtures actually compensate so you don't have to change your habits much, such as touchless or flip-handle faucets that allow you to easily turn off the flow when you're brushing your teeth or shaving. Twice-daily brushing and shaving five times a week with this one simple change can cut nearly 5,700 gallons per year from your water bill, they say. With a touchless faucet, it's done for you as the water comes on when you need it, shuts off while you're brushing or shaving, and as a bonus you never have to touch it so it's hygiene-friendly.
Showerheads have improved significantly since the days when we put little flow restrictor washers in the existing devices to just cut water use. Now, clever designers are creating shower heads that get more out of the water you use, with jets of spray that help you get clean and ready to go in the morning without the delays that rinsing under low-flow used to involve. Our plumber has lots of options and ideas for upgrading your showerhead and, if you're remodeling, for the shower and bath as a whole. We can't forget toilets, where a lot of technology has been invented to help to flush be more effective, plus with recent paper shortages and everpresent drain clog issues, bidets have become more popular as part of the bathroom experience. Flush mechanisms now employ clever ideas such as a jet-style flush release that puts more energy in the water used for greater effectiveness, and a dual-button flush that is appropriately labeled number one and number two on many models, allowing you to easily select the appropriate flow. Just think, with all these changes that reduce the way water is used in your bathroom, every day you can step in, close the door, and think about all the water you're saving just by having our plumber perform a few upgrades. And if you're not ready for that, there are still a couple of important points.
Bathroom Repairs for Important Water Savings
Dripping faucets and leaking flapper valves in toilets add up to a lot of water wasted, and heat too when you consider the hot water faucet leak. Having our plumber service your leaking faucets and toilet flapper valve can make a dent in the 900 billion gallons of water the EPA says are wasted through leaks every year. How do you know when a flapper valve needs service? Two signs are the sound of water running from the bathroom at all hours, and water circulation in the toilet bowl long after it was last used.
Kitchen Water Use Reduction Can Add Convenience, Too
Standing at the kitchen sink doing dishes, you've probably got the water flowing from the faucet to rinse each dish, cup, and fork. What if you didn't need to? One solution is a commercial-style triggered spray nozzle, not one with a plastic hose but one that doubles as the faucet head and easily separates for quick rinsing with a powerful spray. Another solution is a touchless faucet that fires up every time you bring a dish up to it, then shuts off while you're scrubbing in the sink. A third choice, that might intrigue the fans of technology in your home, is one of the modern voice-controlled faucets that allow you to turn the water on and off, even from across the room, and sometimes perform more advanced tasks like dispensing just a quart of water in the pan you've placed in the sink, with no overflows when you answer the phone. Then there's the dishwasher, which our plumber can install for you and ensure that the connections are solid and correct. Modern units have water-saving features including a variety of cycles that allow you to tailor your washing to the work to be done. Combine that with the good habit of running it mostly when full, and you're cutting a lot off your water bill. If you need an extra item to sell the upgrade, consider dishwasher models with significant noise reduction features, allowing you to wash dishes without having to leave the room to talk.
Your Henderson, NV Area Plumber with Water Saving, Life-Enhancing Ideas for Your Home
At Craig's Plumbing, we're here to make your life in Henderson, NV easier with affordable plumbing repairs since 1997. We offer emergency service 24/7, and flexible appointment times. We're also here to enhance your life with water-saving upgrades for your home. Let one of our plumbers make the changes you want, from new, convenient, and efficient faucets to appliance installations. Call us today.