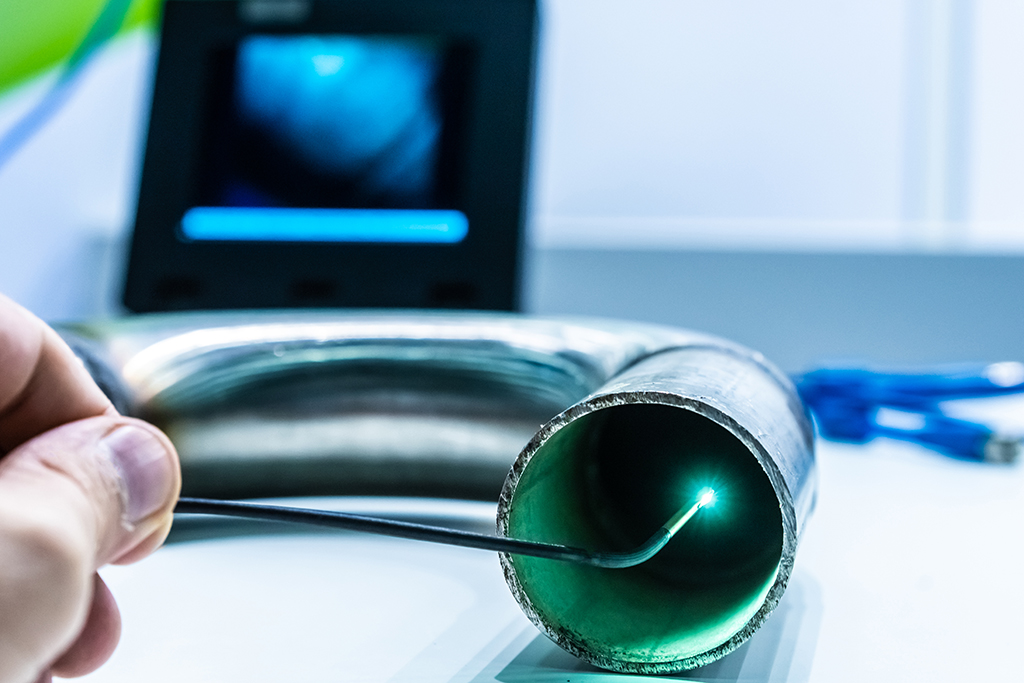 Plumbing Line Video Inspections By Your Plumber | Las Vegas, NV
Plumbing and sewer problems such as blocked drains, poor drainage, and fixture problems can pose a significant risk to your home and cause extensive structural damage. Most issues in your sewers and pipelines are hidden and go unnoticeable until something goes wrong.
In the past, the only way to find a clog in the sewer lines was by digging long trenchless holes in the property's lawn to find a crack in a pipe. This led to extensive damage to the foundation, costing homeowners more money to restore. Plumbers can easily access the sewer lines and drain with video line inspections without destroying your yard.
If you are a homeowner in Las Vegas, NV, experiencing any problems with their sewer lines or drains, please read this blog to understand how a video line inspection will make your repairs faster, easier, and cheaper.
View Blockages More Effectively
The equipment includes a video camera inserted into drains or sewer lines using a flexible fiber-optic scope with an attached LED light. The plumber uses a television screen from the ground to observe the sewer lines or drain visuals. The camera is durable and can withstand extreme conditions in the sewers or drains.
This technology makes it easier for technicians to locate the exact source of the problem. Using it, the plumbers can quickly pinpoint where sewer lines or drains have been blocked and recommend the most suitable solution for homeowners in Las Vegas, NV.
Locate Break in Lines
One of the leading plumbing problems homeowners face is a break in the line. A broken line can cause the sewage to leak into the yard or foundation of your property, which in turn causes significant damage and unpleasant smells.
These breaks are sometimes challenging to locate, but with the video line camera technology, plumbing service technicians insert the video camera, which snakes through the pipes and finds the gap faster so it can be repaired on time.
Helps Locate Leaks
Although some leaks leave evident traces, others aren't so easy to find, but with the use of a sewer camera, plumbers can now quickly locate the leak in your home. By measuring how much the camera cable went down before the leak, the plumbing service providers can accurately calculate the leak's location and determine the pipeline's issue.
Undetected and untreated leaks can cause severe damage to your property and cost you lots of money; hence, the faster they are detected, the better for you. The video line technology makes this possible.
Get More Accurate Home Inspections
The video line camera inspection is essential both to home sellers and buyers. The Inspections reveal the actual conditions of your plumbing.
Video inspections of the drains and sewers can assist home sellers in repairing plumbing issues that otherwise might lead to a reduced value of their homes.
On the other hand, if you are planning on buying a home, you should consider hiring a plumber to perform the video line inspection of the home first. The assessment provides a better perspective of the house's condition, avoiding any inconvenient future surprises.
Save on the Cost of Home Maintenance
Besides plumbing and the sewer line being among the critical essentials in every home, their maintenance tends to be costly. Every homeowner wants to cut costs using the most innovative ways.
If you cannot find the route of the sewer lines and drains problem, it keeps reoccurring, and you have to hire a plumber every time to repair it. But with the video line came inspection; homeowners in Las Vegas, NV, can save on the costs since the plumber only narrows down to one part of the drain line.
Helps You Know What the Clog is Comprised Of
A clog in your sewer line can result from materials such as bathroom products, tree roots, feminine products, or thick grease. Through video camera inspection, plumbing service professionals can quickly check the clog and determine the most appropriate drain cleaning method for your sewer or drain.
Helps Find Your Valuables
Individuals always lose earrings and rings in the sink while washing hands or dishes. You even had to forego precious times your precious life went down the drain. Video camera inspections offer a timely solution to your treasured items if they are still in the gutter or visible on camera.
Fewer Permits May Be Needed
When plumbing companies need to dig a trench through a lawn, they must apply for permits from local government agencies. But by using the video camera, technicians can easily reach your pipes and find the source of the problem in your plumbing without digging the entire lawn; hence, they do not necessarily need permits.
Protects Your Lawn
Digging long trenches in your yard while trying to find the source of your sewer line problem destroys your grass, shrubs, and trees and is costly too. The video line cameras are less intrusive to your home while eliminating excessive digging in your yard and the high costs.
Protect Your Home
Water damage can cause ruin to your property. Drainage and sewer systems are significant causes of such water problems.
Home flooding due to backflows or blockages on the sewer can damage your home, lowering your property's value. The video camera can protect your home through protective maintenance. It assists your technician in determining how to keep their pipes healthy before malfunctioning.
Also, the plumber can permanently resolve the root cause of sewer leaks on the lawn or the mold in the house, which pose a threat to your home, using video inspection technology.
Schedule a Video Line Plumbing Inspection Today with Craig's Plumbing
Do you have any issues with your drains or sewer lines? Call Craig's Plumbing. We offer quality and affordable video line repair inspection. Our certified and skilled plumbers will also assist you with leak detection, water heater replacement, drain cleaning, water line hookup, and hydro excavation. Please get in touch with us today.
Photo by FOTOGRIN at Shutterstock