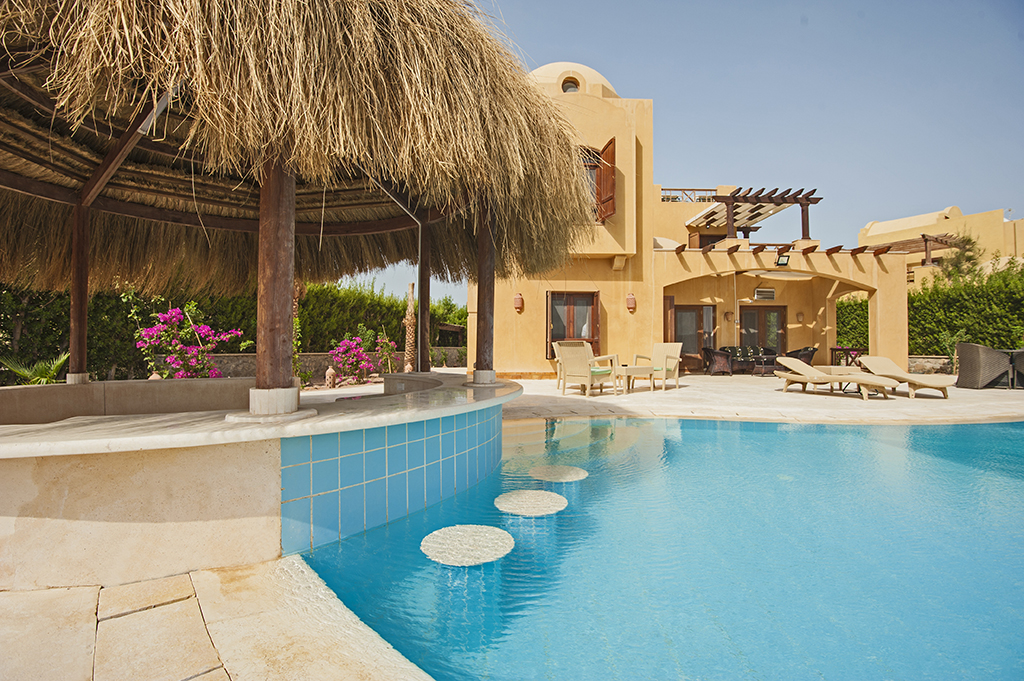 Plumbing Service: Plumbing Features For Your Backyard | Las Vegas, NV
Photo by Paul Vinten at Shutterstock
Many homeowners consider their yard a place to visit and something to maintain, but not really a livable space like the interior of their home. The yard is where the fresh air and sunshine are, though, and where there's space for people to get together and play, hang out and relax, or come out with laptops and tablets and get work done with the sense of freedom that comes from being outside. Here in Las Vegas, NV, Craig's plumbing service providers can provide outdoor plumbing that will help your family cool off in the summer and relax outdoors throughout the year.
Running Water Lines for Multiple Uses Throughout Your Yard
With minimal disruption to your yard, our plumbing service team can run water lines to different areas of your yard such as a children's play area, gazebo, patio, shaded picnic area, or above-ground swimming pool. Tapped for stylish drinking fountains, spigots for gardening and water toys, misters, and even sinks and showers, you'll be expanding the use of your outdoor space with readily available sources of water and cooling that allow you to stay outside without trips to the kitchen to refill. As you get new ideas for water features in your yard, the plumbing is already there to provide the flow you need.
For Active Families, Outdoor Sinks and Showers Keep the House Clean
If you love to watch your kids or grandkids play in the yard, but don't like cleaning up muddy footprints and more inside the house, an outdoor utility sink at the right height could give them a place to wash up before coming inside. Outdoor showers to get everyone clean before jumping in the pool are also a great plumbing service addition to your yard, also keeping your indoor bathrooms from becoming high-traffic areas during parties and family events. Much better than a hose and sprayer, and ideal for those with special needs and disabilities, outdoor cleanup is a great way to make your yard a livable space.
Misters, Fountains, and Bar Sinks on Your Patio
What would make your outdoor gatherings for adults more enjoyable? Chances are, a bar sink and even a glass washer could provide the convenience that everyone needs to relax and take only a few steps when thirsty, instead of roaming the house. Our plumber can add water features such as a relaxing fountain to add sound and motion along with the cooling presence of flowing water. Popular misting equipment, a staple at outdoor restaurant spaces, also provides a way to make your space more comfortable during the one time that many area residents need to head indoors, during the summer heat.
Your Shed, Garage, and Other Outdoor Workspaces Need Cleaning Space, Too
Along with the theme of keeping your home clean and making peace in the family, what about your hobbies and project spaces? If you have workspaces in your garage or shed where you need water for washing materials, cleaning paintbrushes, or washing your hands after greasy or dirty activities, having our plumbing service install a convenient utility sink on the spot is a perfect idea. You won't have to use the bathroom, laundry room, or even the kitchen sink for materials that just shouldn't be in those spaces, and everyone will be glad.
Pool Cabana Convenience
It's surprising that many people have a nice big pool with no fresh water nearby for refreshments and cleanup. Our plumbing service can install a nice little sink and a convenient cup-filling faucet in your pool cabana is a luxury that you'll enjoy whenever you're outside and relaxing, or feeling like you need to hydrate. Let our plumbing service experts run spigots for foot bathing too, and other conveniences that make your pool have a bit of a French Riviera feel.
While Everyone's Outside, How About Your Indoor Plumbing?
Hopefully, you have lots of great ideas now on how to make your yard more livable by having our plumbing service add water and convenience for the whole family. Now that you have a place for people to clean up outside, maybe it's time to go ahead and renew your bathrooms and kitchen with new fixtures and appliances? If you're like many people, You haven't even had a chance to try some of the new water-conserving luxuries that are available, from ultra-convenient and automatic sinks to pressurized dual-volume flush toilets and bidet options. Showers that provide the comfort of all-over rain and spray make it easy to relax and enjoy refreshing your skin, or provide a quick all-over wash and rinse for a quicker exit in the morning. If you really want to do it upright, full-coverage showers that spray from the sides as well as above are amazing. For relaxing in the tub, there are step-in and jet-powered models that offer convenience for everyone and flowing water that helps your body relax.
Let Us Schedule Your Annual Drain Cleaning Service
Another plumbing activity that's best performed while everyone's enjoying the outdoors is a top-to-bottom cleaning of your home's drains, traps, and drain pipes. Our plumbing service team inspects, cleans, and blasts clear your pipes' accumulated clogs and other materials. It makes your home's plumbing run free and clear and ensures that any small clogs will be quick and easy to fix. We also inspect and clean sewer lines, for peace of mind and even better home drain flow.
Your Indoor and Outdoor Plumbing Experts for Las Vegas, NV
Craig's Plumbing serves the Las Vegas, NV area with experienced professional plumbing service and emergency plumbing 24/7. We've been the ones to call for local homeowners since 1997, doing our best to make life better for our customers. We offer weekend appointments, expert remodeling, skilled diagnosis of plumbing problems, and important plumbing maintenance including drain cleaning service and hydro-jetting. Give us a call and find out what we can do for you.