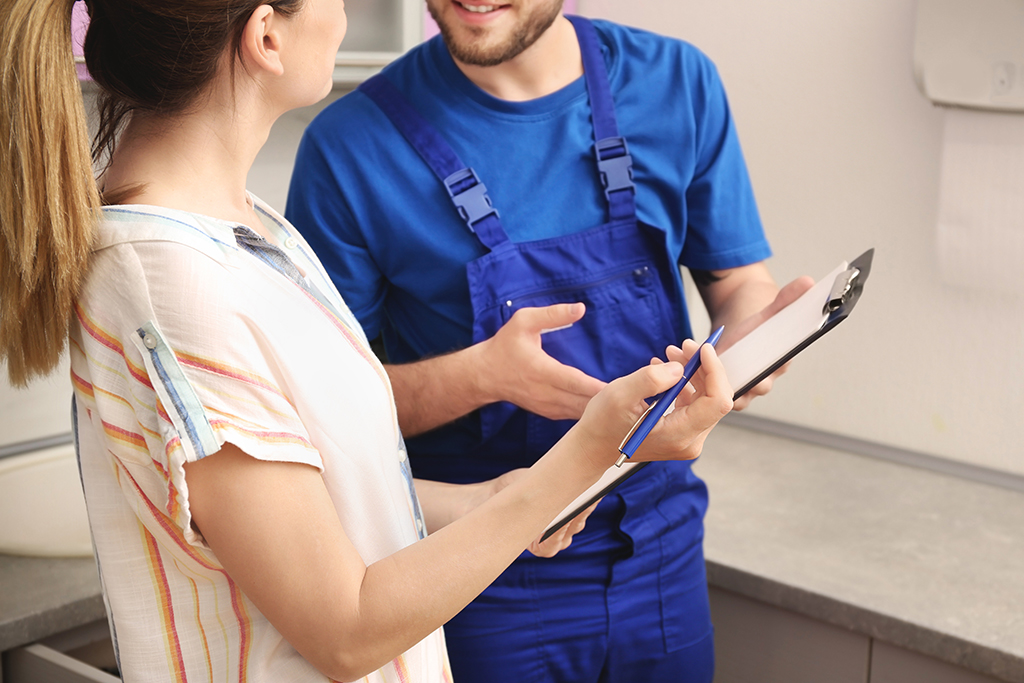 Plumbing Service That You Can Count On | Henderson, NV
Photo by New Africa at Shutterstock
Both commercial and residential properties require professional and quality plumbing services to ensure that water remains channeled into the different areas of the house and drain the wastes away. Whether sewage wastes or clean water, a top-notch installation procedure is necessary. However, property owners now and then encounter problems that arise from their plumbing, meaning there is a need for regular maintenance.
We offer various plumbing services at Craig's plumbing, especially in installation, maintenance, and repairs, to ensure that your home is comfortable. Below are some of the services that we at Craig's plumbing offer to residents of Henderson, NV.
Replacement Of Old And Worn Out Works
Plumbing systems aren't laid to remain forever? Even with high-quality installation processes, a time comes in the future when you will have to replace the pipes, toilets, and faucets or even remodel your kitchen. Replacing worn-out and old parts is vital since it prevents extended damage to your structures, guarantees operational efficiency, and saves you money from subsequent repairs.
For example, hidden leaks might exist inside the walls or in the basement that can damage the floors or walls, causing additional maintenance and repairs of the surfaces mentioned above. However, by enlisting our plumbing services to replace the damaged parts, you can prevent such cases and ensure that your plumbing systems operate at the highest efficiency.
Rerouting the Pipes
The other invaluable plumbing service that we offer to our Henderson, NV clients is the rerouting of plumbing pipes. This is primarily for the families that are relocating to new homes. Upon purchasing a new home for your family, you might not determine the broken, leaking, or aged pipes and might burst sooner.
You can solve this puzzle by hiring a plumbing expert to reroute your piping and renovate the pipes that cannot be fixed by replacing them. You might need a plumber to tighten the loose ends in some connections, and others need repairs. This is a vital step for ensuring your family remains safe and comfortable against pooling waters and leakages.
Cleaning the Drainage Systems
Most homeowners might be very cautious of the materials they throw down their drains to avoid dirt and debris buildup or even clogging. However, this doesn't guarantee that their drains will be free from potential clogs and blockages caused by other agents. There can be an accumulation of different substances because little waste particles get into the drains, resulting in foul odor and creating leaks. Hair particles for those that shave in the bathroom and accumulation of soap scum are notorious at this.
Therefore, you must hire a reliable and qualified plumber to thoroughly analyze your plumbing system and offer their plumbing services in cleaning the drains. Ensure you also develop a drain cleaning plan where the plumber will be visiting your home after a specified period to clean the drains and inspect any underlying issues that might result in a full-blown problem in the future.
The Installation Repair and Maintenance of Faucets, Sinks, And Toilets
Replacement of old toilets, broken sinks, leaking faucets, or installing new fixtures is vital for your home. At Craig's plumbing, we understand that you will or normally work towards ensuring your house is clean, conducive, and comfortable for your family and visitors. Toilets are critical areas that must always be clean and have equipment in the proper and functional conditions. The toilet should flush waste away without backing up or producing any sounds.
We also understand that your kitchen should have operational facets that aren't leaking. A standard sink that drains appropriately without any complications should also be installed. That's why at Craig's plumbing, we offer other plumbing services besides installing these plumbing fixtures. We also accord you maintenance and repair services to ensure your home's faucets, sinks, or toilets operate at their highest condition. Call us today to install these fixtures in your home and make it comfier.
Tankless Water Heater Installation, Maintenance, and Repair
Our plumbers at Craig's plumbing have extensive skills and knowledge on water heating systems. They know the ins and outs of any water heater, not just the tankless water heaters. Water heater layout, installation, and the plan include dangerous electrical and water pipe connections if handled by untrained and unqualified personnel. For this reason alone, you should leave the water heater installation or repair to the professionals, not to mention that DIY water heater repair could make your warranty void.
Water heater plumbing services are more vital, especially for the people living in multi-story buildings. At Craig's plumbing, our water heater technicians know the requirements. Hence, they are ready to offer you water heater installation, maintenance, and repair services. Avoid cold showers or a lack of hot water at your home when you most need it. Call us at Craig's plumbing to create a water heater maintenance plan.
In-Depth Inspection of your Piping Systems
Modern technologies in plumbing have proven beyond any reasonable doubt that plumbers can see places without necessarily being there and don't need to dig up your yard to repair the water or sewer lines. The plumbers can use inspection cameras to see the thin and dark interiors. Therefore, they can identify any damages, corrosion, clogs, or leaking part with minimal damage to your yard, if any.
At Craig's plumbing, we use high-quality cameras and the latest technology to analyze different units like sewer lines and drainage systems. Hence, we can finish the project clean and environmentally friendly.
We Provide Emergency Plumbing Services
Pipe bursts, leakages, and clogging might occur at any time. Therefore, there is a need for immediate and swift replacements or repairs to prevent further damages and additional maintenance costs. The best way of avoiding this issue is to have a plumbing company that offers 24-hour emergency services. Plumbers at Craig's plumbing know the need for homeowners to have their contacts in a plumbing emergency. Hence, we immediately respond to calls in and attend to the issue promptly to ensure your home is in the clear.
Reliable Plumbing Services In Henderson, NV
At Craig's Plumbing, we pride ourselves on being a reliable plumbing company that uses advanced technology equipment to provide exceptional outcomes to our clients from installation to repair and maintenance. We comprise plumbing experts ready to serve you 24/7. Contact us at Craig's plumbing for all your plumbing services needs.