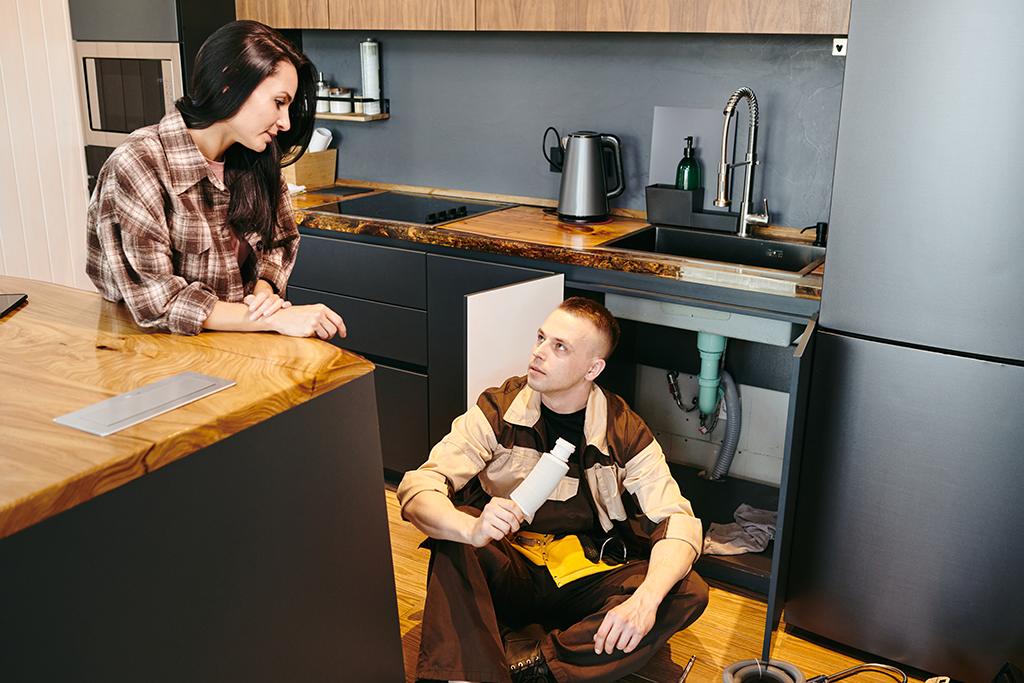 Questions To Ask A Plumber Near Me In | Henderson, NV
Photo by Pressmaster at Shutterstock
A plumber near me in Henderson, NV, is a popular search term online. It produces a lengthy list of results. It's then up to you to go through the online directory and decide which companies to contact based on what you learned. Once you know how a company operates, you can give it your business and get things inside or outside your home resolved.
When you're trying to get assistance with a problem with your plumbing, you shouldn't need to jump through hoops to make it happen. It should be something that requires little effort and provides you with a great deal of relief. Locating a plumber near me in the city is something that can be done within minutes and gives you a chance to cross a big to-do off your list.
What You Need to Know Before Hiring a Plumber in the Area
Before you give a plumber your business, there are things you want to know. Reaching out to a professional with your request for plumbing assistance helps you understand what takes place when you give a company your business. When the plumber arrives, they'll assess the situation and develop a plan to fix the issue so you can go back to life as normal.
Here are some questions to ask a plumber near me in Henderson, NV:
How long have you been working in the industry? This is one of the most important questions you'll ask because it helps you get to know a company and what it offers you in terms of knowledge and experience. The longer a plumber the city has worked, the better able they are to help you with the problem that you're experiencing. You know what to expect when you hire a seasoned professional capable of doing outstanding work for you.
Do you have any special training? It helps you know whether or not a specific plumbing issue can be taken care of by the company you've contacted. The plumber will let you know if there are any licenses or certifications they hold that can be of use to you. If so, you can easily schedule their service and do not need to look for another plumber near me in the city.
Where do I find examples of your work? A plumber should be able to tell you where to find reviews and testimonials. You'll likely find examples of the work that they've done online. If the professional points you in the right direction, it makes things much easier. You'll find someone that you can trust and use their services throughout the years without delay.
Are you willing to guarantee your handiwork? Having a company that you can reach when you need a helping hand is one thing. Having it guarantee the work that it does for you is another. It feels incredibly good knowing that there are many things that a plumber near me in the city does right for its customers. One is to guarantee the work that they do for you. It's not your responsibility to fix a plumbing problem that you thought a professional resolved for you.
How long does it take to fix plumbing issues like mine? You want to know how long the issue takes to make arrangements to disrupt your normal schedule to accommodate the plumber's presence. If you typically work when the company books the repair, you'll need to take it off. If you have small children and pets that could potentially get hurt by an unsafe plumbing issue, you'll need to keep them somewhere safe while the professional works. It's entirely up to you to reach out to a plumber near me in the city for information about your specific plumbing issue.
How much will I pay to have a job like this done for me? You must know what you're paying for before agreeing to work with a plumber. Asking about costs is a normal practice. It helps you understand what will take place once the plumber starts working on the plumbing issue. It allows you to learn more about the different companies available to assist you, too, by requesting pricing information and learning who is the most affordable and capable option of the handful of candidates you've discovered.
When searching for a plumber near me there are things that you should know right away. This guide served its purpose if it helped you locate a professional ready and able to assist you with your request for assistance. You can easily take care of the things that need your attention by preparing a list of questions to ask potential plumbers before you decide to take the plunge and hire one of them to do work for you.
A plumber near me in the city has access to all sorts of information that they're willing to share with you. If you're looking to improve your situation, now is the time to pay close attention to the companies in the area offering plumbing services. You'll find many are more than willing to help you resolve your problem quickly and affordably. All you need to do is ask.
Get All the Help That You Need Today from an Experienced Plumbing Company
Craig's Plumbing takes away the need to find a plumber near me in Henderson, NV. It makes it possible for us to reach out to you whenever you need a helping hand. You get the assistance necessary to make your plumbing problem go away in no time. It gives you plenty of chances to fix a problem that would only worsen if ignored by you.
Call 702-496-3892 with details about the issue you're experiencing. The sooner we hear from you, the faster we'll be able to fix your problem. We want to make it a point to get the job scheduled right away so you're not in a position where things are uncomfortable for you in the home. Let us know what we can do to improve the situation and earn your trust.