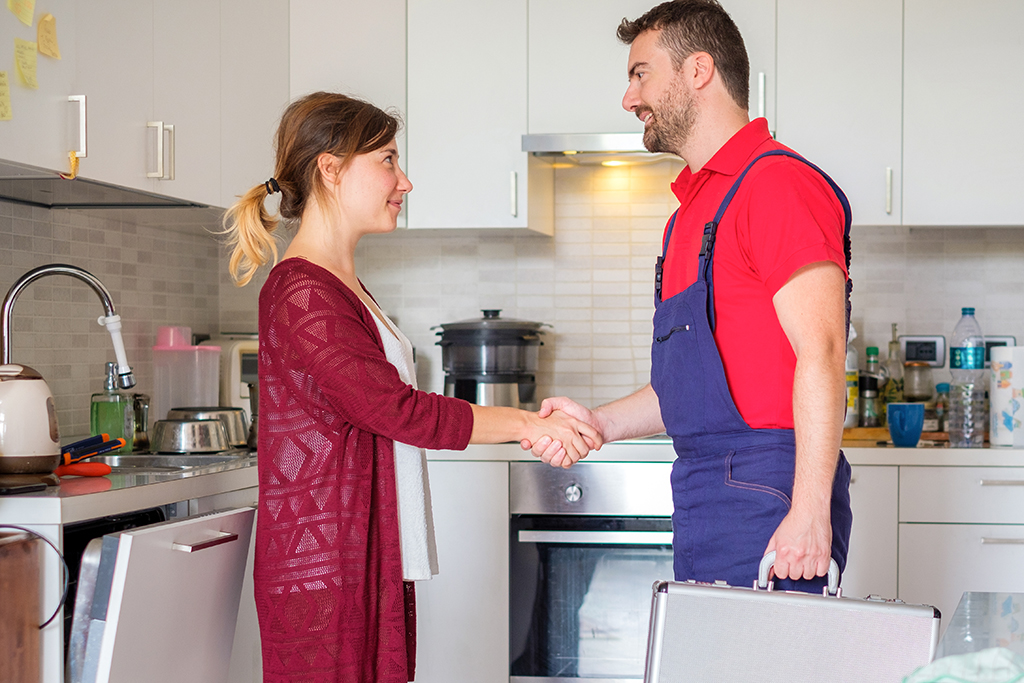 Tips For Finding The Right Plumber | Summerlin, NV
Photo by tommaso79 at Shutterstock
If you're in the market for an experienced plumber in Summerlin, NV, there are plenty of things to consider when choosing who will be responsible for your plumbing needs. The goal is to find someone who will offer the best value in terms of cost and quality, which may require you to look beyond the first few plumbing companies you find online or in the phone book.
With Craig's Plumbing, we have many years of experience and will ensure that our customers are satisfied with our work. We can help make sure that any bathroom or kitchen leak doesn't turn into a flood, unclog whatever needs unclogging, or install that new dishwasher or water heater.
Here are some tips that can help you choose the right professional for your plumbing needs.
When to Search for a Plumbing Expert
Whether you live in Summerlin, NV, or anywhere else, don't wait until your toilet is running to start looking for a professional. Unforeseen emergencies can occur at any time of day or night. Look for an expert who provides 24/7 service so that you have somebody to call when you require them most.
Keep in mind that you may need different services from your plumber depending on what's going on with your plumbing. If your toilet is running, you should call a professional that offers emergency service because water damage can lead to mold and other expensive problems.
Common Plumbing Problems
If your home or office is experiencing issues with your pipes or fixtures, it's essential to understand some of the common problems associated with plumbing systems. Here are the common plumbing problems to look out for.
Leaky Faucets
A leaking faucet can appear to be a minor issue, but then again, it can cost you a fortune. If your faucet is leaking, contact a professional immediately to avoid water damage and mold growth in your home or business. Leaking faucets are more than just an eyesore; they're likely putting hidden stress on other plumbing parts that will only become worse over time without proper maintenance.
Blocked Drains
The most obvious symptom of a blocked drain is a complete lack of water flow in and out of your sink or bathtub. However, sometimes you'll see slow-moving water, which can mean that particles in your pipes are causing blockages. If you suspect that you have a clog on your hands, it's essential to call an expert to clear things up.
Frozen Pipes
If you notice any icy buildup around your water pipes, call a professional right away. Freezing piping can rupture—which is very risky. In addition, it can result in thousands of bucks in water damage to your residence. Even if your pipes have not frozen over yet, keeping them insulated is an essential first step toward keeping them from freezing during colder months.
Clogged Toilets
If your toilets are clogged, it can be a big headache to unclog them yourself and can lead to much bigger problems if not addressed quickly. If your toilet is clogged, don't try to unclog it with a plunger or chemicals that may damage your septic system; call a professional instead.
What Should You Expect from Your Plumber?
When hiring a professional, keep in mind what's most important to you. Do you want someone trustworthy? Or do you want someone who can do quality work at a reasonable price? Whatever your priorities are, make sure that they're reflected in your choice of plumbers.
A reliable professional is all about making sure you're 100% satisfied with their work. Craig's plumbing in Summerlin, NV, is an expert that strives to go above and beyond your expectations.
Tips for Hiring a Professional Plumber
Many plumbing issues should be left in a professional's hands. From extensive remodels to emergency replacements, there is no one more qualified than a licensed and bonded expert to get things working right again. Here are some tips you can follow to make sure you hire someone who will take care of your plumbing problems:
Experience
If you want to hire a plumber, ensure they have experience. An inexperienced one may not be able to repair your leaky faucet properly but could end up causing worse damage down the road. Look for professionals with at least 5 years of experience and check their past jobs before deciding which one to hire.
Licenses and Insurance
When you call an expert, it's important to ask about licensing and insurance. You want to make sure your plumber is licensed and insured before they start any work. Ask if they're bonded and insured as well because sometimes these things aren't required by local codes but are important to you as a homeowner. Since licenses and bonds can be expensive, it's common for plumbing professionals to carry both of them together with their state licenses.
Guarantee
Most plumbers offer a warranty of some kind, but not all warranties are created equal. Be sure to ask about guarantees and ensure they meet your needs. Warranties will vary from company to company, so if you're deciding between companies it's good to know what those differences are before making a final decision. If you do not choose a company with an extended warranty, be prepared to pay out-of-pocket in case there is any plumbing problem that might pop up later on.
Reviews
People who have used plumbers are likely to leave feedback online. When you're looking for a professional, take a look at what previous customers have said about their experience with different companies. Although past performance doesn't guarantee future results, it can help give you an idea of how well or poorly other people have liked certain services.
The Plumbing Service You Can Trust
We provide plumbing services such as clogged drain clearing and cleaning, sinks and faucet replacement, water heaters and toilets, tubs, and showers. The professionals at Craig's Plumbing also handle emergency plumbing problems. If you need to hire an expert, be sure to give us a call here at Craig's Plumbing – we're always happy to lend a hand. We proudly serve Summerlin and beyond!